Private Educational Institutions Regulatory Commission to ensure standard in teaching, research and protection of interests of students of private educational institutions – Chairman K.K Katoch
Shimla: Two-day conference on 'Private Higher Education in Himachal Pradesh: Challenges and Opportunities' was organized by Private Educational Institutions Regulatory Commission (PERC) at Shimla today.
Chairman HPPERC Dr. K.K Katoch, addressing the participants, said that aim of the conference was to develop private educational institutions of Himachal Pradesh for quality education in such a way that taboos and fears of getting education through such institutions could be dissipated.
He said the Private Educational Institutions Regulatory Commission will ensure appropriate standards of admission, teaching, examination, research, extension programmes and protection of interests of students of private higher educational institutions. The Commission is trying to streamline the admission criteria and ensure merit based admissions in all the state private universities and has made these disclosures mandatory to the public at large through web-portal.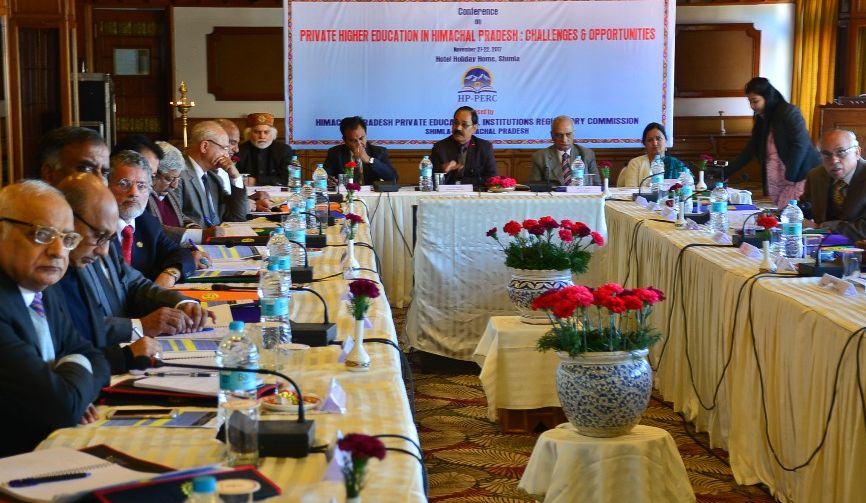 He said the Commission has been redressing the grievances of students through grievance redressal mechanism. Universities, institutions of higher education on intervention of the Commission refunded Rs. 99,51,235 on account of admission fees, security, release of salaries to teaching staff. 17 fake institutions of higher education have been ordered to be closed down in the state saving future of students who were trapped in name of degree certificates in private higher education.
Chairman said that Vice Chancellors and Registrars of State Private Universities attending the conference will certainly ensure best standards of higher education in their universities so that world class private universities could be nurtured in the state.
Sunita Kapta, Secretary HP PERC, while welcoming the delegates, said that PERC besides regulating the education in private educational institutions, facilitates them in such a way that best and quality education could be provided to students.
Vice-Chancellors, Registrars, Chief Executives and Administrators of private universities and private educational institutions in Himachal Pradesh, attended the conference.