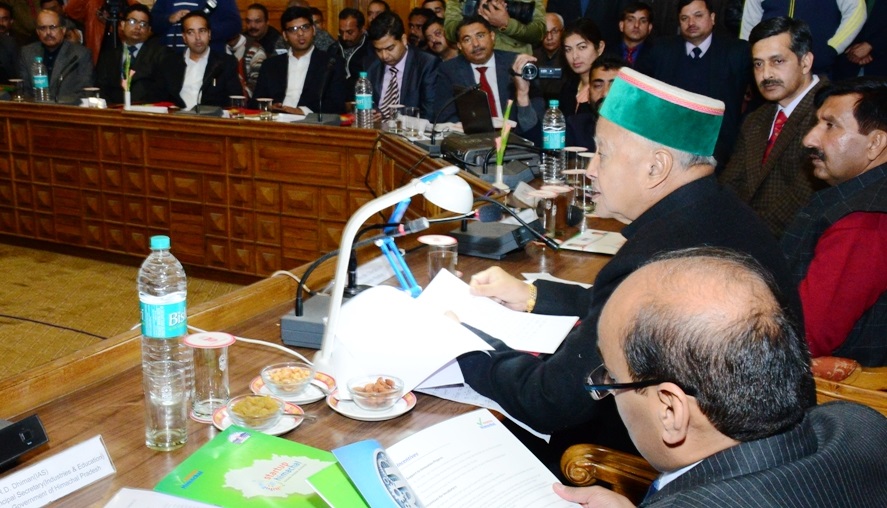 In order to promote new ideas, products and processes suitable for commercialization and industry, Chief Minister Virbhadra Singh today launched 'Chief Minister's Start-up, Innovation Projects, New Industries Scheme' in the State.
Under the Scheme, startup units would be exempted from routine inspections alongwith exemption of tax for initial three years. Self-attested certificates will be accepted for all official purposes so that the start -up units could sustain and work without formalities and obstacles, in the State.
To woo investors, the stamp duty has been reduced to three per cent for start- up units along-with allotment of plots, on 50 per cent of rates, as fixed by the industries department.
The Chief Minister said that such an education system, would be provided, in the State where new ideas and innovations could be coordinated with industry to provide a new direction to pace of development.
He assured to provide liberal assistance to incubator organizations designed to promote growth of start –up units and having physical space, coaching and mentoring facilities. Rs. 30 lakh per incubator per year upto a period of three years will be provided for this purpose.
Industries Minister Mukesh Agnihotri said that Ease of Doing Business was a main issue, on many platforms for establishment of industry. The State has done major progress on this issue and very soon the State will be counted, in the first 10 states of the nation for Ease of Doing Business criterion.
He said online applications, would be accepted, in the directorate of industries for establishing start up units which will be approved, at the earliest.
Director Industries Rajesh Sharma said that 60 per cent of start- up units were initiated by top most educational institutions, in the world and added that collaboration of educational institutions and industry was necessary for growth of industries. He said IIM, IIT and other important educational institutions are being roped in, so as to promote start up projects in the State.