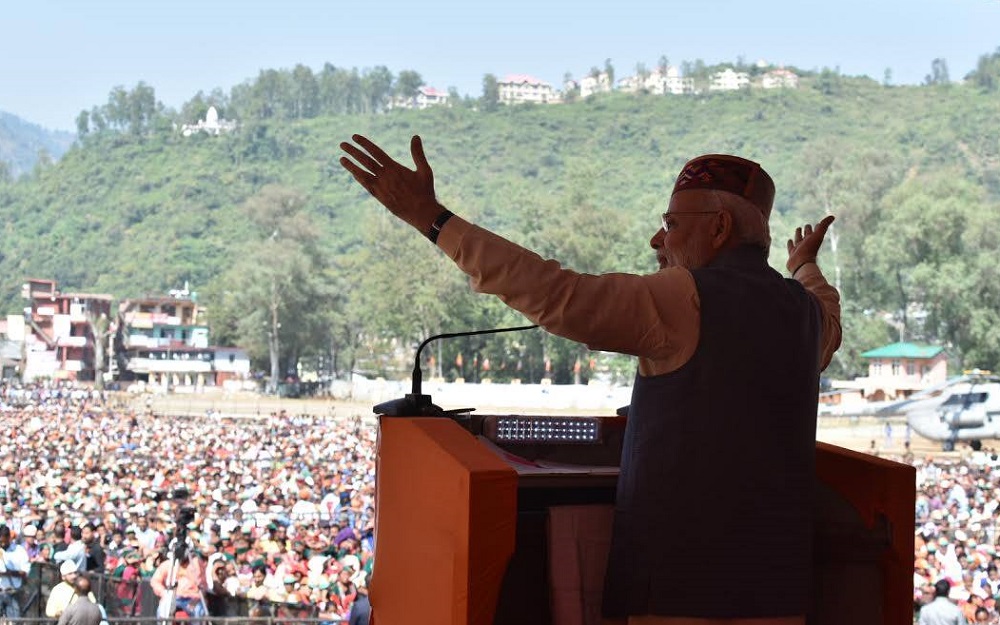 Mandi: Prime Minister Narendra Modi on Tuesday lauded the Indian armed forces for their valour and successfully carrying out the surgical strike at Pakistani terrorist bases in PoK.
The prime minister, while speaking at a rally at Mandi district in Himachal Pradesh, where he inaugurated three state-run mega hydro power during his day-long maiden visit to the state, lauded the contribution of the state in armed forces and stated that Himachal is the land of the brave because every second family in Himachal has given at least one personnel to the country.
Modi said that Himachal Pradesh is not only the devbhoomi but also a veerbhoomi.
The Prime Minister, in his address, also mentioned the 'One rank One Pension Scheme,' and praised his government for implementing what has been "stuck for the last 40 years."
Narender Modi also praised both BJP's Chief Minister viz. Shanta Kumar and Prem Kumar Dhumal and said "Shanta Kumar ji is remembered as that 'paani wala chief minister', Dhumal ji is remembered as the 'grameen sadak wale chief minister'. And we all know about this chief minister and how he will be remembered."
This was Modi's maiden visit to the hill state after becoming prime minister.
To make Prime Minister Narender Modi's rally a big hit thousands of BJP workers from every nook and corner of the state reached at the Mandi Padal ground. All of prominent leaders including former Chief Minister and Union Minister Shanta Kumar, Union Health Minister JP Nadda, former Chief Minister Prem Kumar Dhumal, State party president, party elected legislature, party office bearer and other party workers attended the rally.