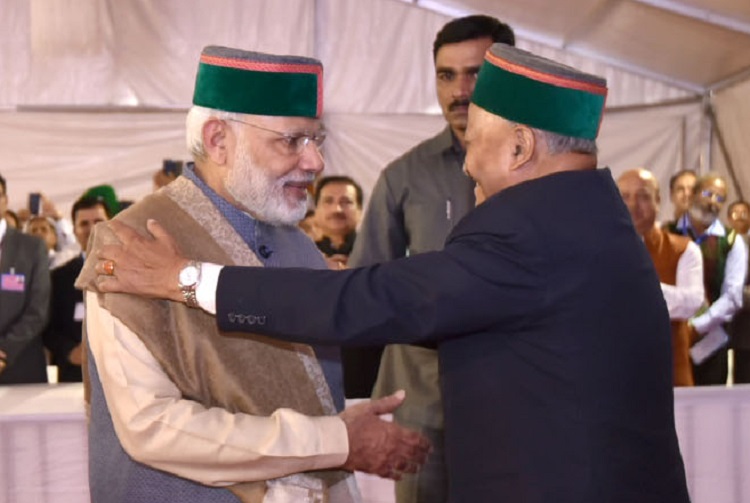 Mandi: Himachal Pradesh Chief Minister Virbhadra Singh termed the BJP's 'Parivartan Rally' at mandi today a flop show.
The Chief Minister, whom Prime Minister Narender Modi, in his address at the rally called "self-serving," claimed that BJP failed to draw people of the state to the rally as hardly 15 thousand or little more were present at the venue.
Referring to the speech of the Prime Minister that the people don't remember Congress for some remarkable and outstanding achievement or development work, Virbhadra Singh said the people of the State were the better judge to make out the difference, and awards like "Best Big State in field of education and improved Big State in the category of inclusive development in a survey conducted by an independent agency, were the live example of it. Singh claimed
"Education was the top priority of the government and we don't mind whatever was said in the rally as people know that Congress was synonyms of development"
The veteran Congress leader said that there was internal war going on in the State BJP for projection of the Chief Minister candidate. The Chief Minister said
"Though Shri Shanta Kumar, the former Chief Minister is not in the race but the outcome for Chief Ministership candidate within BJP at later stage between the Union Health Minister Shri JP Nadda and Shri Prem Kumar Dhumal would be quite interesting to watch"
Virbhadra Singh evinced faith in the people of the state and hopeful of repeating the government in the 2017 assembly poll slated to be held later next year, if Congress Party posed a united face. He said that Congress party have full support of the people at the very grassroots level.
He said that in the Panchayat election 90 percent of the seats were won by the candidates supporting Congress Party and that was because of the development we did and the people witnessed, said Virbhadra Singh.
As far as roads were concerned, just two or three villages were left to be connected with roads he added. During the regime of BJP, maximum funding for roads was done by UPA under the Pradhan Mantri Gram Sadak Yojna, and NABARD. There were hardly few villages which were provided road connectivity. Today, even the difficult and tribal areas were having road connectivity for which strenuous efforts have been made by the State Government and the successive Congress regimes, he said.