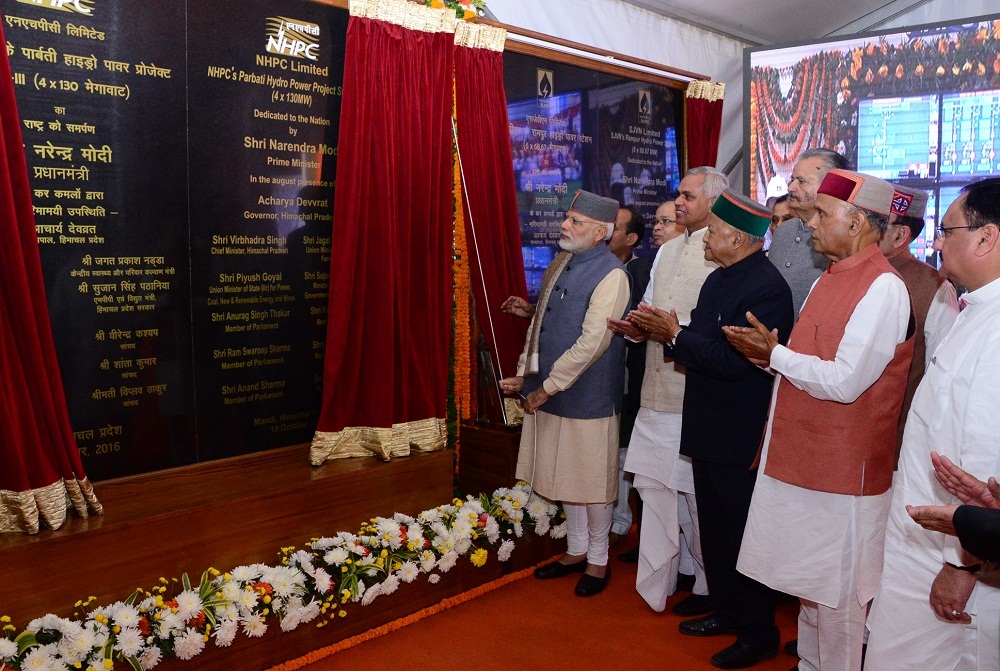 Mandi: Prime Minister Narender Modi today visited Mandi in Himchal Pradesh today. The Prime Minister inaugurated the Kol Dam (800 MW) hydel project of National Thermal Power Corporation(NTPC), Parbati (520 MW) hydel project of National Hydel Power Corporation (NHPC) and Rampur (412 MW) hydro project at Mandi today.
On the Prime Minister's visit, the state Chief Minister Virbhadra Singh presented a memorandum to him raising issues of Himachal Pradesh:-
1) Compensation Grant of at least Rs. 1000 crore (One thousand crore) per annum be given to Himachal Pradesh for immensely valuable environmental and ecological services rendered by Himachal Pradesh by ban of green felling and preserving the forests in the Hill States. The State's efforts have brought immense benefits to the rest of the country even at the expense of livelihood of the people of the State. A Committee headed by Sh. B.K. Chaturvedi of the then Planning Commission to "Study Development in Hill States arising from Management of Forest Lands with Special Focus on Creation of Infrastructure, Livelihood and Human Development" had recommended special grant to hill States equal to 2% of Gross Budgetary Support to the Plan each year. This Committee's recommendations are the basis for the State's request for Compensation Grant. Thus, a Special Compensation Grant of Rs.1000 crore from the Union Government to Himachal Pradesh was requested by the Chief Minister.
2) To remove delays in clearing Hydel Projects by speedy environment clearance. Himachal Pradesh fulfills the criteria of having forest area more than 33% of total geographical area, fixed by Environment Ministry, Govt. of India, whereas HP has 66.5% of its area classified as forest. Therefore, Ministry of Environment, Forest, GoI should speedily clear all forest diversion cases for Hydel Projects which are pending in the Ministry of Environment& Forest, GoI due to insistence of the Ministry to make available non-forest land to carry out the Compensatory Afforestation which is not available in Himachal Pradesh since Himachal Pradesh already meets the Govt. of India criteria.
3) Increased Powers to State Government in Hill States like Himachal Pradesh to divert Forest Land for Development purposes like Roads, Water, Irrigation and Hydel Projects from 1 hectare to 10 hectares.
4) Resume Commercial Flights in Shimla Airport
Shimla is one of the very few State Capitals without air connectivity. The infrastructure facilities at Shimla airport have also been upgraded. The Hon'ble Prime Minister was requested to direct the Ministry of Civil Aviation and other concerned organizations to ensure resumption of commercial flights to and from Shimla airport.
5) Reversion of Surplus SJVNL Land to Himachal Pradesh for Engineering College at Kotla (Jeori)
This land was allotted to SJVN Ltd. by the State Government in 1980s for construction of office accommodation and residential colonies and is presently surplus. There is hardly any utilization of land by this project at Jeori or Kotla. Even the SJVNL authorities have recommended transfer of this surplus land to the State Government for setting up of Engineering College at Kotla (Jeori). The unutilized vacant land including built up area can be effectively used for the purpose of setting up the college.
It was requested to intervene in the matter and direct the SJVN Ltd. Authorities to immediately transfer this land.
6) Include Himachal Pradesh as whole time member in BBMB
At present there are two whole time Members in the Management of BBMB, Punjab and Haryana. Since BBMB Projects fall under territorial jurisdiction of the State of Himachal Pradesh, it becomes the legitimate right of State of Himachal to have representation as one of the whole time Members in the Board. Himachal Pradesh suffered high distress due to submergence of 103425 acres of fertile land in case of Bhakhra Project and 65563 acre in case of Beas Projects (Dehar& Pong).
In accordance with the directions vide Govt. of India communication dated 16.8.1983, the State of Himachal Pradesh was given status of partner state in BBMB projects in 124th BBMB meeting held on 19th& 20th January, 1987 retrospectively, but the decision is still to be implemented. The Hon'ble Supreme Court of India vide judgment dated 27.9.2011 has recognized the share of State of Himachal Pradesh as 7.19%.
The Prime Minister was requested to intervene in the matter for induction of Himachal Pradesh as Whole Time Member by making due amendments in the Punjab Re-organization Act, 1966, if required and to notify the State of Himachal Pradesh as Partner State of BBMB and give due share of State to Himachal Pradesh in BBMB Projects.
7) Waive off the Condition of NOC for Water Supply from BBMB Projects within HP Territory
No allocation of water has been made to the State of Himachal Pradesh out of Sutlej water and surplus Ravi Beas water as per Bhakra Nangal Agreement, 1959 and Inter-state agreement dated 31.12.1998. Considering the water usage rights of Himachal Pradesh in River Satluj, Beas and Ravi, the State should not be required to seek No Objection Certificates (NOCs) from BBMB/Ministries/Departments to implement water supply schemes etc. for supplying water to rural areas of our State adjoining these Projects. The Prime Minister was requested remove this condition of obtaining NOC.
8) Payment of Energy Arrear Claims to the State of Himachal Pradesh as per Supreme Court Order
The State of HP has submitted its calculations of energy arrear claims against States of Punjab and Haryana at Badarpur Thermal Power Station (BTPS) rate to the tune of Rs. 3997 crore in deference to Supreme Court judgment dated 5.7.2011. Govt. of India has however recommended a separate NFL rate which is detrimental to Himachal Pradesh. To restrict HP claim to National Fertilizer Limited (NFL) rates is not only highly discriminatory but also against the spirit of partner State status as NFL rates were considered as concessional rates and concessional rates can never be the rates for settlement. Prime Minister was requested to intervene in the matter.
9) NPV (Net Present Value) Cost in PMGSY Project be borne by Govt. of India
Under FCA, 1980 the State is required to deposit CA and NPV in lieu of diversification of forest land for construction of roads which is substantial. During the last three years the State has deposited CA & NPV amounting to Rs. 60 crore approx., for various PMGSY roads in the State. The situation is going to be worse in future, as almost all the roads which are eligible for funding under PMGSY, pass through forest land. In view of tight financial position of the State, Prime Minister was requested to bear the cost of NPV for PMGSY projects in the State.
10) Central Sector Accelerated Irrigation Benefit Programme (AIBP) and Flood Management Programme (FMP)
The Prime Minister was requested to release funds for schemes already sanctioned by Govt. of India under AIBP and FMP.
In most such projects huge amounts have been spent by the State Government out of its own resources and the reimbursement of same is pending from Central Ministries.
11) Include more activities under MGNREGS, which are relevant for Himachal Pradesh
Cannabis plants grow wildly in the several parts of the State. This causes major social hazards. The State Govt. has requested that cannabis' removal should become an eligible activity under MGNREGS. Rural Development Department has already started cannabis/opium Eradication Campaign from 22nd August, 2016 to 5th September, 2016 and arranged uprooting of cannabis in 2145.79 hectare area.
Similarly, tea plantation is done by the small and marginal farmers in the State, unlike major tea growing States like Assam, West Bengal etc. The Chief Minister requested that Tea Plantation Rejuvenation should also be allowed as a permissible activity under MGNREGS.
12) Release of funds under Himalayan Circuit (Swadesh Darshan Scheme)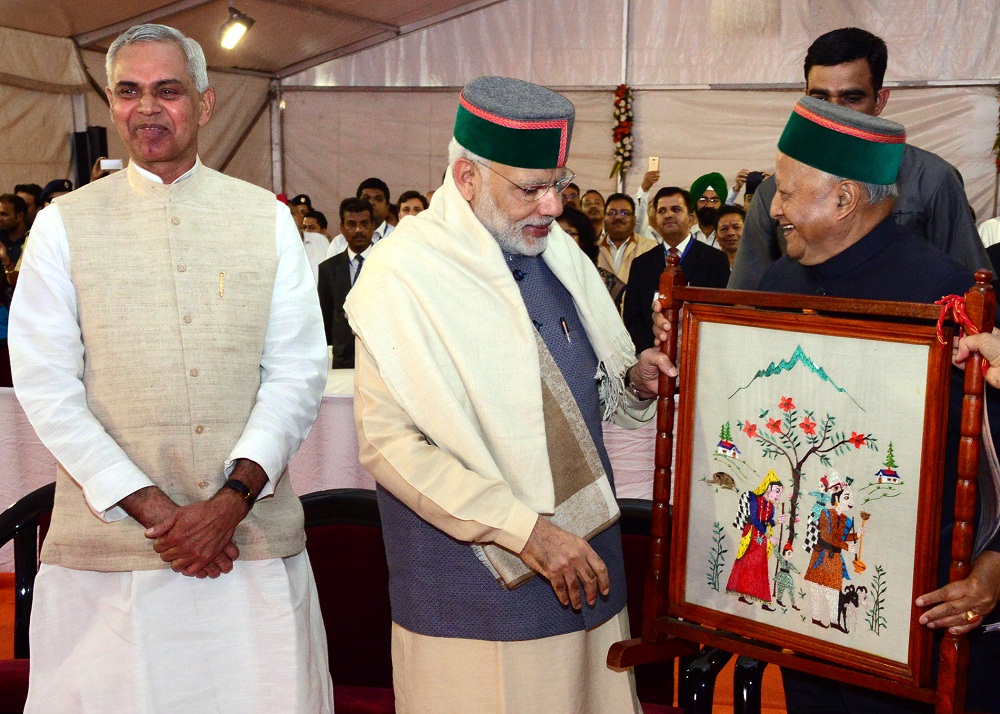 The State Government has submitted projects worth Rs. 100 crore to the Ministry of Tourism, Government of India for release of funds under the Himalayan Circuit of Swadesh Darshan Scheme.
The Chief Minister also requested the release of funds under the Himalayan Circuit Scheme by Government of India.
Earlier, the Prime Minister was accorded warm welcome by the Chief Minister on reaching Mandi and was also given a memorandum regarding suggestions to be pondered upon for development of the State.