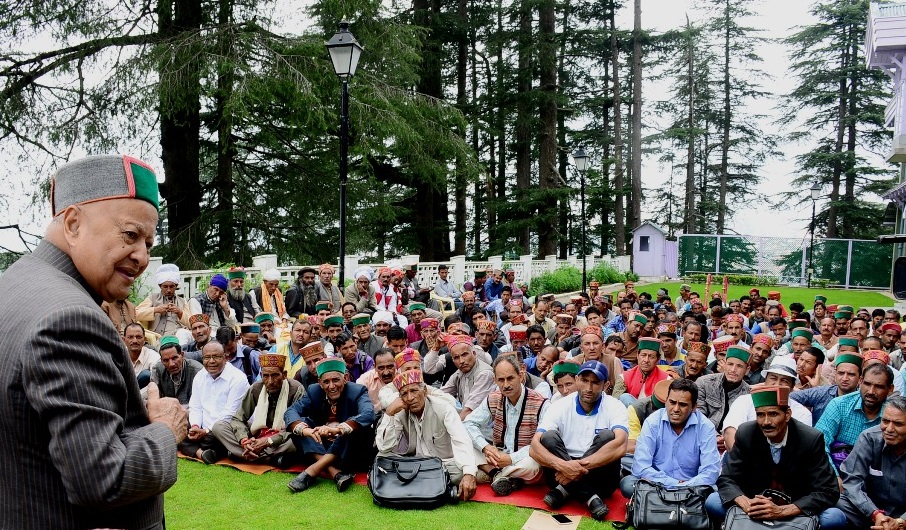 Shimla: Kullu Raghunath Temple was not a private property of any individual as the entire festivities of the Kullu Dusshera revolve around it and Lord Raghunath is principle deity of people of the Kullu valley, said Chief Minister Virbhadra Singh while addressing a deputation of 'Dev Sanskriti Charitable Trust' here at Oak-Over today.
Citing examples of the formation of numerous temple trusts in the State for better management of the temples, the Chief Minister said that formation of Raghunath Temple Trust was for the overall benefit of 'Dev Samaj' and better financial management. "How can it be a private property, when the entire festivities revolve around it and the people of the Valley have unwavering faith in its principle deity", he said, adding that in Dussehra festival it is the main deity leading 'Rath Yatra' and the whole festivities are the important part of the temple. He said that the Government had not taken over the temple but its management. Virbhadra Singh said that govt hasn't equated itself with God. He said
"It is not like that we ever sat in the palanquin carried by the people on their shoulder. Being a true devotee myself, I have pulled the reins of the Chariot and at numerous occasions, given my shoulder to the palanquins carrying our local deities"
The Chief Minister assured that the formation of Trust would strengthen the security and better fiscal management of the temple. Regular audit would be done, proper receipts of donations would be given, there would be trustees to run the temple affairs, and fund collected from the temple will be spent on the temple ad its welfare activities, he further added.
Chief Minister also exhorted the 'Dev Samaj' to come forward to stop the practice as adopted by few people who carry the palanquins of the deities on roads and in bazaar. He cautioned to take strict action against violators as he believes that such activities defaming the entire 'Dev Sanskriti' and brings bad name to the State as well. The People should come forward to put an end to such a business in name of deities, he remarked.
The Chief Minister also announced a sum of rupees five crore for the Dev Sanskriti Charitable Trust for research and study of 'Dev Sanskriti' of Kullu. He said that research was necessary to carry over the culture and traditions to the next generations, adding that though we may not exist, but the culture and customs should go on forever. Being hill people, we are recognized by our language, culture and traditions and no matter wherever we stay, we should conserve it at all cost, stressed upon Shri Virbhadra Singh.