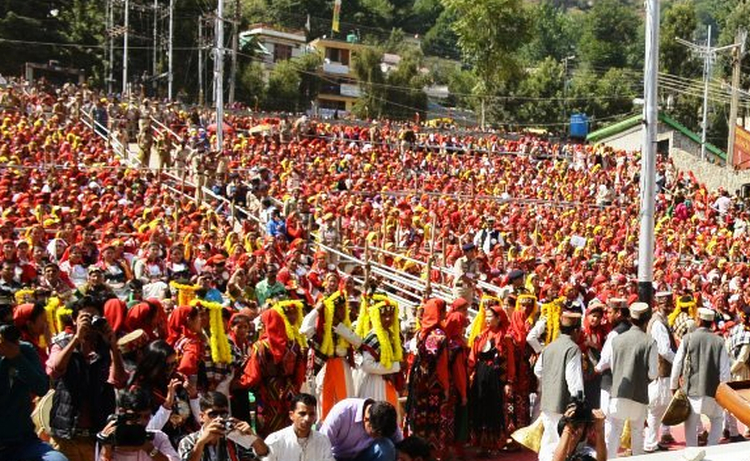 Aiming for the Limca Book of records, as many as 8760 local women performed Folk Dance on the occasion of Historic International Kullu Dussehra at Rath Ground in Kullu today.
The local folk dance performance, touted as a largest Asia Folk Dance performance, was first of its kind in the State with women in traditional attires danced to the tune of folk music songs.
The theme of the festivity, 'Save Girl Child' was mainly based on spreading the awareness about the importance of Girl Child in the Society.
Himachal Pradesh Chief Minister Virbhadra Singh inaugurated the event. He lauded the performance and congratulated the participants for successfully giving a strong message against the evil.
The Chief Minister administered the pledge of saving the girl child to thousands of women present on the occasion and also assured to work together for eradicating the evil practice of child infanticide. He said
we should start a crusade to save the girl child and unless drastic measures are taken, as to give them better education, to create skills and capability amongst them for enabling them to stand on their own feet and care for themselves, it will be difficult for any Nation to prosper
He said the girl child, which was a beautiful creation, was one of the gravest concerns facing humanity, with a volley of summits, conferences and events held for the cause, with topmost world leaders at the helm. He said that efforts should be to make it a Global Campaign, particularly in the developing Nations and South East Asian Countries for saving the Girl Child. Selective sex abortions should be discouraged and the private clinics involved in detection of sex should be dealt with as per the laid down legal norms.
The Chief Minister said no Society can prosper without respecting the women folk, who were the strength of the society, adding that women was a friend, a mother, a sister who performs multifarious roles in society. "If due respect is given to women and if equipped with proper resources, they have the power to change the destiny of civilizations" he said.
The Chief Minster said that the need of the hour was to empower the women folk for a better tomorrow and there were millions of such women who were serving the Nations as equal to their men counterparts.