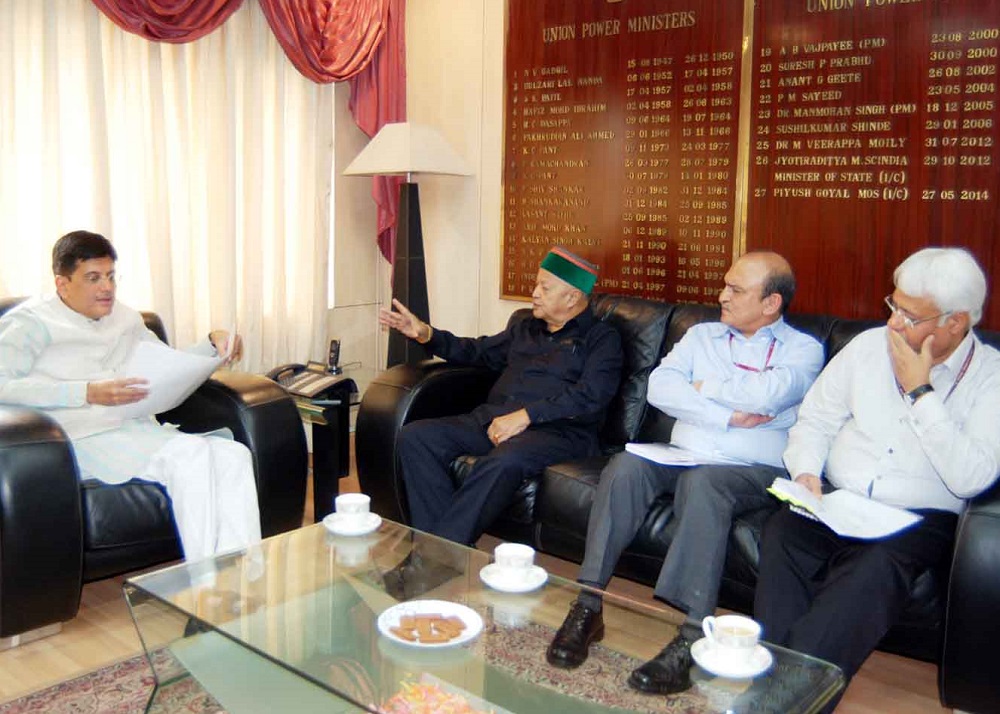 New Delhi: Chief Minister Virbhadra Singh has sought intervention of Union Power Ministry for early release of long pending share of the State in Bhakra Beas Management Board (BBMB). He said the people of Himachal Pradesh had always made sacrifices for the sake of the Nation adding that thousands of families became oustees due to construction of various projects of national importance like Bhakra Dam and Pong Dam.
He raised this issue in a meeting with Union Minister of State for Power Piyush Goyal in New Delhi today. He said after the verdict of Hon'ble Supreme Court of India, the Punjab Government should come forward within no time for settling the issue of due payment to Himachal Pradesh from BBMB.
While detailing about the effective policy of the State Government for early harness of available hydro power potential, the Chief Minister demanded for constructive support of the Union Ministry in implementing small hydro power projects so that these could be completed in a stipulated time period.
Virbhadra Singh also raised the issue of land acquisition for setting up of government engineering college at Kotla near Jeori in Shimla district and apprised the Union Minister that surplus land was available with Satluj Jal Vidyut Nigam Ltd. (SJVNL) which could be utilized for construction of this college. He said the State Government had already taken up this issue with SJVNL and Power Ministry and their support was expected to start the work on this project well in time.
Piyush Goyal assured the Chief Minister that all these issues pertaining to Himachal Pradesh would be taken up on priority. He also directed the senior officers of the Power Ministry to intermediate and take effective steps for amicable solution for release of share of Himachal Pradesh from BBMB.