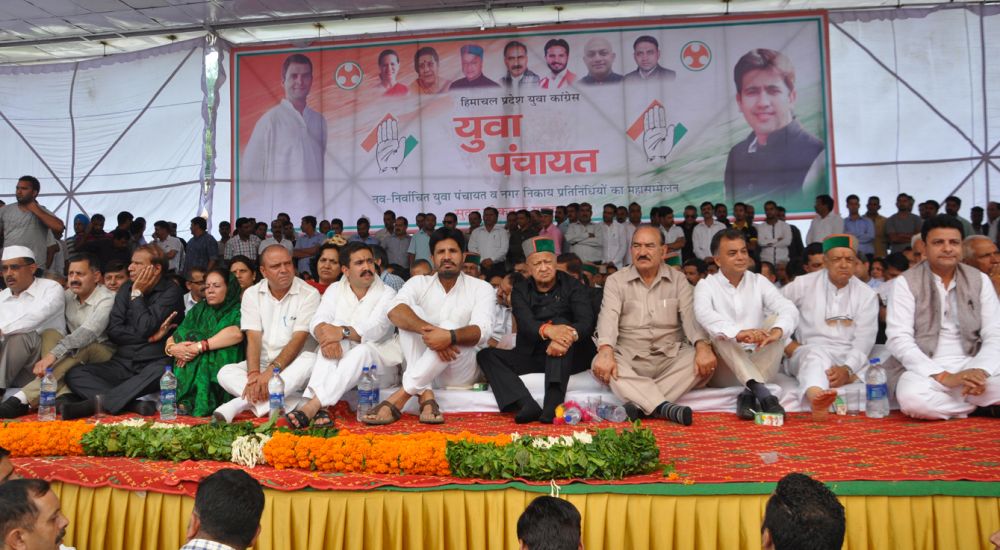 Mandi: Himachal Pradesh Chief Minister Virbhadra Singh again targeted Union Government and accused it for misusing central investigating agencies like CBI, Enforcement Directorate, and Income Tax Department against its political opponents.
The Chief Minister, addressing a function organized by the State Youth Congress for empowerment of office bearers of Panchayati Raj at Mandi today, said the Union Government had failed to redress the core issues of the country and it was only concerned to harass its political rivals.
The Chief Minister congratulated the Youth Congress for organizing the function and said such events provide opportunity to the representatives of Panchyati Raj Institutions to know about the developmental schemes and programmes of the Government.
He said provision had been made in the 14th Finance Commission for funds for developmental works to the panchayats but there was no such provision for Zila Parishads and Panchayati Samitis. He had raised this issue personally with the Prime Minister and was hopeful that provisions would be made for Zila Parishads and Panchayat Samitis as well. But, if the Centre did not agree for this then State Government would provide appropriate funds for carrying out developmental activities.
Virbhadra Singh said the Government of India had constituted 'Niti Ayog' in place of 'Yojna Ayog' and being a Chief Minister he was also its member but till today he was unaware about the working of the Commission.
While reacting on two years tenure of the Modi Government, he said their development had been confined only to publicity and nothing had been done on the ground level. He said the Union Government had failed to fulfill promises made during the Election Campaign.
Health Minister Kaul Singh Thakur, Excise and Taxation Minister Prakash Chaudhary, Rural Development and Panchayati Raj Minister Anil Sharma, Forest Minister Thakur Singh Bharmouri, Urban Development Minister Sudhir Sharma, CPSs, Chairmen and Vice-Chairmen of various boards, National President of the Youth Congress Amrender Singh Barar and State Youth Congress President Vikramaditya Singh were also present on the occasion amongst others.