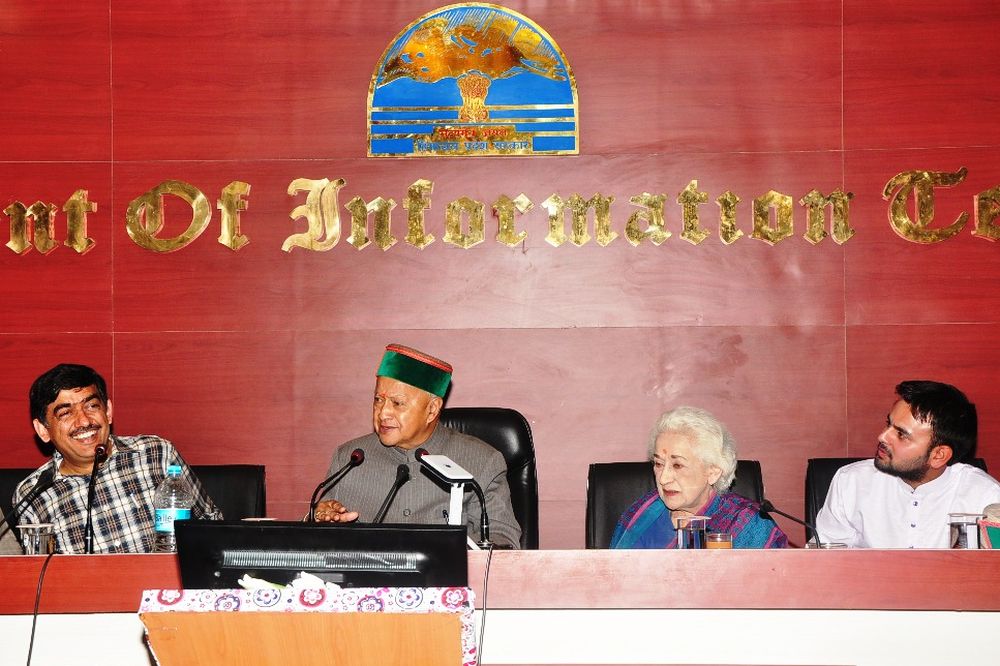 Shimla: Chief Minister Virbhadra Singh inaugurated the State Data Centre (SDC) and new building of the Information and Technology department at Mehli, in Shimla today.
The SDC has been constructed at a cost of Rs. 58 crore whereas a sum of Rs. 8.66 crore was spent on construction of new building of the department. The Chief Minister also saw the demonstration of revenue and welfare services under e-district project where databases of various departments have been integrated.
Speaking on the occasion, Virbhadra Singh said it was a proud moment for the State to have its own data centre which also happened to be the first 'Green" data centre in the country as it minimizes power consumption by maximising power utilisation efficiency.
He said the technology had revolutionised the people's interaction, the way business transactions were happening seamlessly over internet all across the globe and therefore, all government departments should embrace IT to deliver services to the citizens.
Virbhadra Singh said the SDC would facilitate all government departments to make use of common IT infrastructure facility created by the IT department. Now, there would be no need for the user departments to spend money for procurement of servers, databases etc. and the applications would be hosted centrally in the SDC free-of-cost and HIMSWAN connectivity would be provided in field offices to access departmental applications.
The Chief Minister called upon all the departments to make best use of SDC for hosting e-governance application instead of creating their own infrastructure. The Chief Minister said
"All the departments should make sustained efforts for digitalizing and verifying their databases so that all documents and certificates are henceforth generated from the same, thereby reducing the need for maintaining two kinds of records",
He directed to roll out 101 e-governance services through Lok Mitra Kendras to facilitate the people residing in rural areas of the State. He said so far land records of 115 tehsils and sub-tehsils had been migrated to SDC and utility had also been created to synchronize offline mutation data and possibly Himachal Pradesh was soon going to be the first State to have a truly online land records.
Information and Technology Minister Vidya Stokes said the State had brought qualitative change in the lives of people by empowering them through ICT initiatives at their door-steps. She said launch of SDC was another milestone achieved by the State in the field of IT.
Earlier, Additional Chief Secretary, IT Sanjeev Gupta in his presentation informed that 58 different types of government services were being made available through Lok Mitra Kendars in the State and efforts were on to provide 101 services by the end of this financial year.