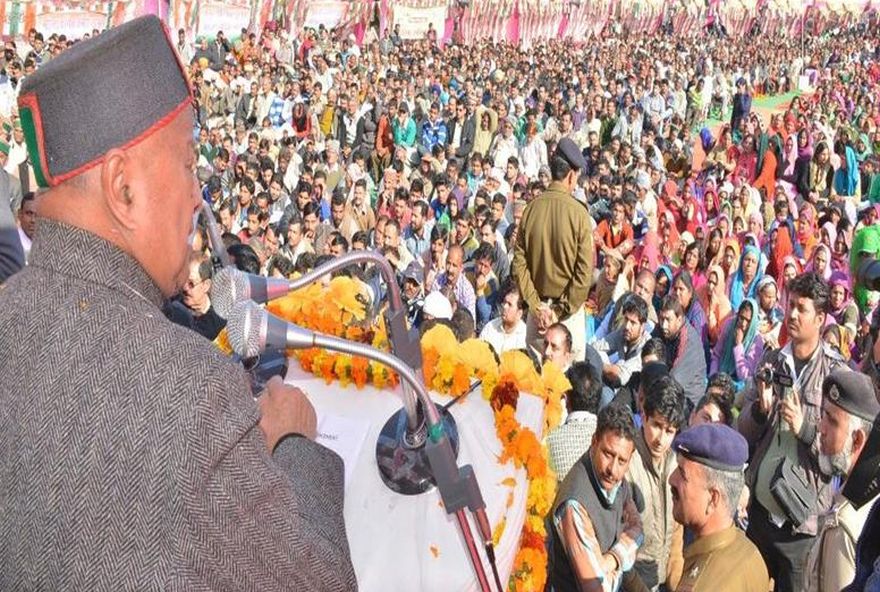 Chief Minister Virbhadra Singh today underlined the need for taking up effective steps to check illicit drug trafficking, especially on the border areas of the State as youth were falling prey to drugs.
The Chief Minister, while addressing a public meeting at Jassur in Nurpur, said youth were the pillars of healthy society and the need of the hour was to channelize their energy in constructive activities so that they could contribute for the welfare of the society.
He also cautioned the chemists to abstain from selling un-prescribed drugs and directed the concerned authorities to keep close vigil on sale of such drugs and initiate strict legal action against the defaulters.
Virbhadra Singh announced Ayurvedic Health Centre at Charuri and Drug Rehabilitation Centre at Nurpur and upgradation of Civil Hospital Nurpur to 135 bed hospital.
He announced Indoor Youth Stadium to be constructed at Nurpur, PWD, Rest house at Suliali, Bus Stand at Nurpur and Sub-Division of Pollution Control Board at Nurpur. He also announced construction of link road Badui Kuttain in GP Badui, construction of link roads from Kukher to Gurchal in GP Ther, from Gangath to village Tariar Anoh in GP Anoh, from Kamalahar to Murdial har in GP Hatli Jamwala, link road for village Ghatta and road from Rit to village Kursan Behdi. He also announced to start science and commerce classes in GSSS Sukhar, starting of science classes in GSSS Aund and upper Khanni.
The Chief Minister also announced a sum of Rs 10 lakh for Community Centre at Jassur and three lakhs for Panchayat Ghar at Kamnallaha.
He announced up-gradation of Government High Schools Jachh, Ghehi Langor and Kopra, up-gradation of Government Middle Schools Fattu-Ka-Bag, GMS Sutrahar and Tikka Nagrota, upgradation of Government Primary Schools (GPS) Badhui Khas, Bhol Thakrain in Gram Panchayat Minjgran and GPS Balkhore in GP Baranda and opening a new Primary School at Pucca Tiyala in Harijan Basti.