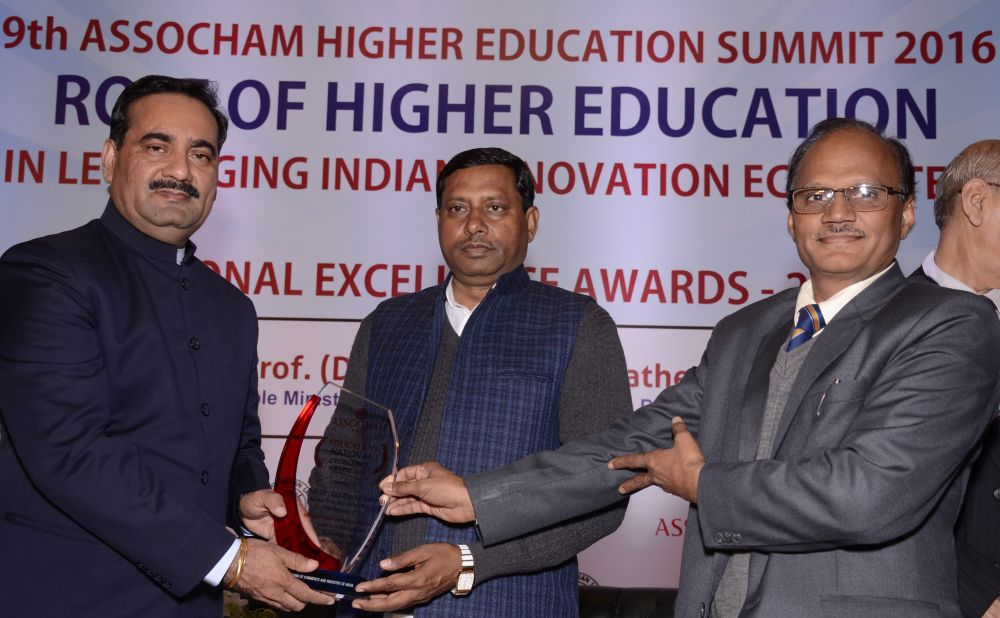 Waknaghat: The Bahra University, Shimla Hills is awarded the 'Best Upcoming University in Teaching' by Associated Chambers of Commerce and Industry of India (ASSOCHAM) – one of the Largest Apex Trade Association of India.
Chancellor, Bahra University, G.S Bahra received the award from Prof. (Dr.) Ram Shankar Katheria, Minister of State for Human Resource Development, Government of India, in the 9th ASSOCHAM higher education summit.
While congratulating the Bahra University, he said "our achievements speak louder than our words". He said values like earning while learning, achieving the excellence beyond limits, respecting the humanity and cross culture diversity, providing scholarships and intellectual freedom, developing public relations and leadership skills etc. are all embedded deep into the dictums of Bahra University that has led it towards excellence.
Prof. (Dr.) Daljit Singh, Vice-Chancellor, Bahra University, congratulated the faculty, staff and the students of the University and credited the recognition as a result of their coordination and hard work. He said the award is a testimony to the sense of commitment on the part of faculty, staff and students of the University.
The Bahra University has made rapid strive in the field of academics, sports and co-curricular activities. The University established in 2010 is claiming for striving for excellence and quality higher education.