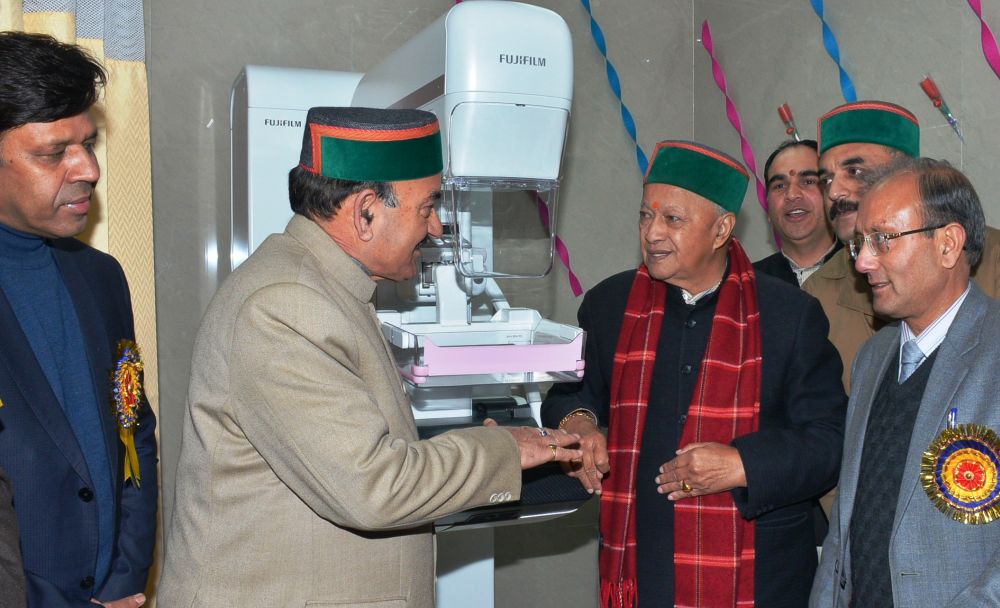 Shimla: Chief Minister Virbhadra Singh today inaugurated digital mammography machine in Radiology department of Indira Gandhi Medical College & Hospital (IGMC), Shimla.
The machine has been installed at a cost of Rs. 2.4 crore and is one of the best digital mammography machines in northern India.
The Chief Minister said that this was a state of art machine for early detection of breast cancer and it would go a long way in the better treatment of cases of breast cancer especially in the female patients.
The machine passes lowest possible radiation dose to the patients and has very high detection rate for cancer at an early stage, which was not possible with earlier conventional mammography machines.
This machine has added facility of 3D Tomosynthesis, which could detect hidden lesions within the dense breast. The stereotactic biopsy system supplied with this machine would be handy for final tissue diagnosis with nearly 100 percent accuracy.
The Chief Minister said another digital mammography machine would also be installed at Tanda Medical College in Kangra district to benefit the patients of lower parts of the State with this latest technology.
He said that the State government was laying special emphasis on providing best health care services to the people of the State for which infrastructure was being in the health institutions.
Health and Family Welfare Minister Kaul Singh Thakur, Mayor, Municipal Corporation, Shimla Sanjay Chauhan and Deputy Mayor Tikender Panwar, Deputy Commissioner Dinesh Malhotra, Principal, IGMC Dr. S.S. Kaushal, Director, Medical Education Dr. Jaishree Sharma, Sr. Medical Superintendent Dr. Ramesh Chand, Head of Radiology department Dr. R.G. Sood, other medical fraternity and senior officers of the State government were also present on the occasion.