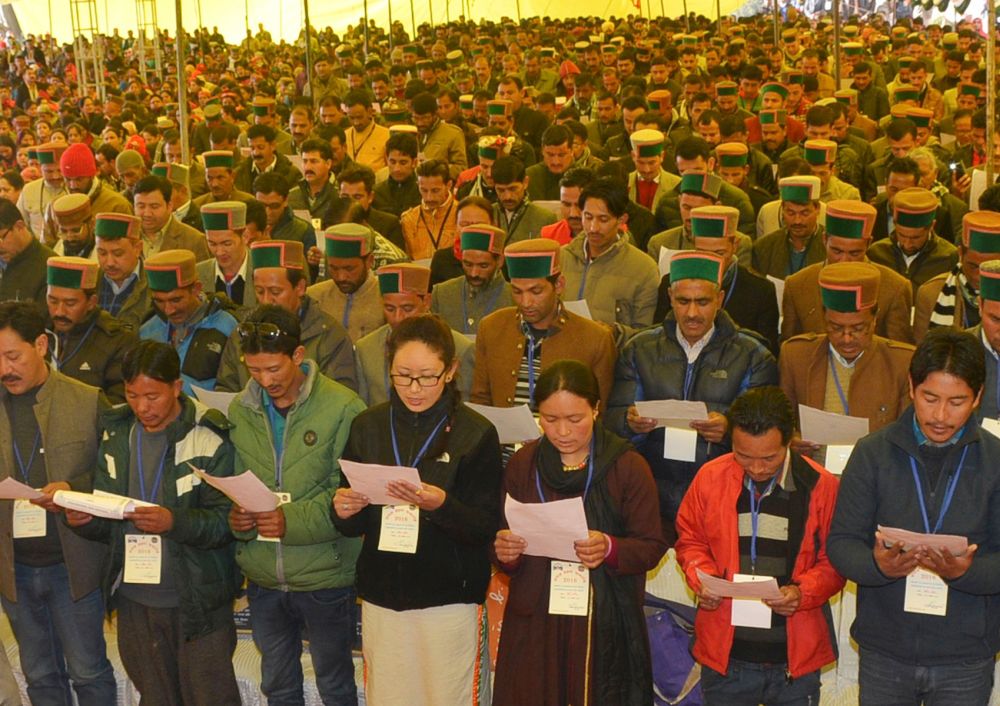 Shimla: Chief Minister Virbhadra Singh administered oath to the newly elected Pradhans and Up-Pradhans of district Shimla, Solan, Sirmour, Kinnaur and Kaza block of Lahaul & Spiti in a ceremony at Peterhof, Shimla today.
The Chief Minister, addressing the newly elected PRI representatives, urged them to work dedicatedly for the development of their respective areas they represent.
He asked them to provide transparent and good governance in their respective Panchayats and also ensure delivery of benefits under different programmes of the Government to the targeted groups
The Chief Minister said that 114 Panchayats had been elected unanimously and were entitled to a special development grant of Rs. 10 lakh each.
The Chief Minister said that Rs. 195.39 crore would be released to the Panchayats as per the recommendation of the 14th Finance commission during this financial year out of which Rs. 97.70 crore had been released as first installment. He asked representatives to optimally utilize the funds being provided to them for various development programmes.
Virbhadra Singh said that State Government was committed to strengthen the PRIs and decentralization of powers to the strongest grass root level units of democracy.
Rural Development and Panchayati Raj Minister Anil Sharma welcomed and honoured the Chief Minister on the occasion. He congratulated the newly elected PRI representatives.
He said that State Government would impart foundation course to all 28,725 newly elected Panchayat representatives within six months. He said that the Government was committed for the welfare of the people of the State.
Secretary Rural Development and Panchayati Raj Onkar Sharma proposed the vote of thanks.
Cabinet ministers, CPS, MLAs Chairmen, Vice-Chairmen of various board and corporations, Director I&PR Dr. M.P. Sood, Deputy Commissioner Shimla Dinesh Malhotra, Director Panchayati Raj M.S. Thakur, other senior officers of the Government and other prominent persons were also present on the occasion.