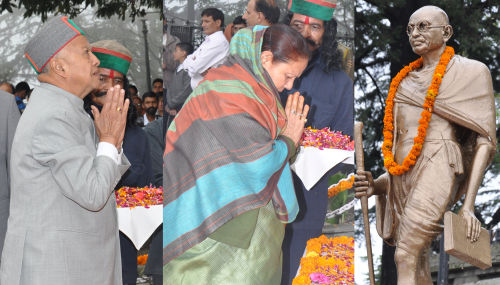 Governor Urmila Singh paid rich tributes to Father of the Nation, Late Mahatma Gandhi and Former Prime Minister Late Lal Bahadur Shastri on their 144th and 109th birth anniversaries respectively at historic Ridge Maidan and near Telegraph office here today.
Chief Minister Virbhadra Singh also paid floral tributes to Late Mahatma Gandhi and Late Lal Bahadur Shastri on behalf of the people of the state on the occasion. Paying homage to both the leaders, Governor said that nation was indebted to both the leaders for their contribution and following their ideals in their true spirit was true tribute to them.
Chief Minister said that people would always remember both the leaders for setting highest examples of simple living and high thinking. He said that the ideals of truth and non violence preached by Late Mahatma Gandhi were basic principles for promoting peace and brotherhood. He said that it was due to his ideals and vision that the country had made rapid progress in all fields.
Brij Bihari Lal Butail, Speaker, H P Vidhan Sabha, Vidya Stokes, IPH Minister, Suresh Bhardwaj, Mohan Lal Brakta, Sanjay Rattan, MLAs, Ram Lal Thakur, Chairman, State Level Planning Development and 20 Point Programme Committee, Tikender Singh Pawar, Deputy Mayor, M. C. Shimla, Councilors, M.C. Shimla, former mayors, ADN Vajpayee, V.C. H.P. University, Sh. T.G. Negi, Advisor to Chief Minister, Sh. Sanjay Kumar, DGP, Dinesh Malhotra, D.C., Amarjeet Singh, Commissioner MC Shimla, officers of State government and prominent people of the town also paid floral tributes to both the leaders on the occasion.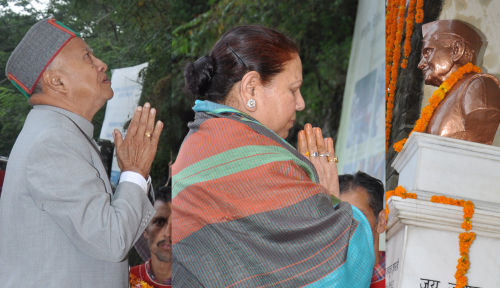 Patriotic songs and bhajans were recited by the artists of Information and Public Relations department to mark the occasion. A film on Late Mahatma Gandhi's visit to Shimla was also displayed on the occasion. Prabhat Pheries were also taken out by the prominent persons of the town and children of various schools early morning. A photo exhibition was also put by the IPR department on the occasion.