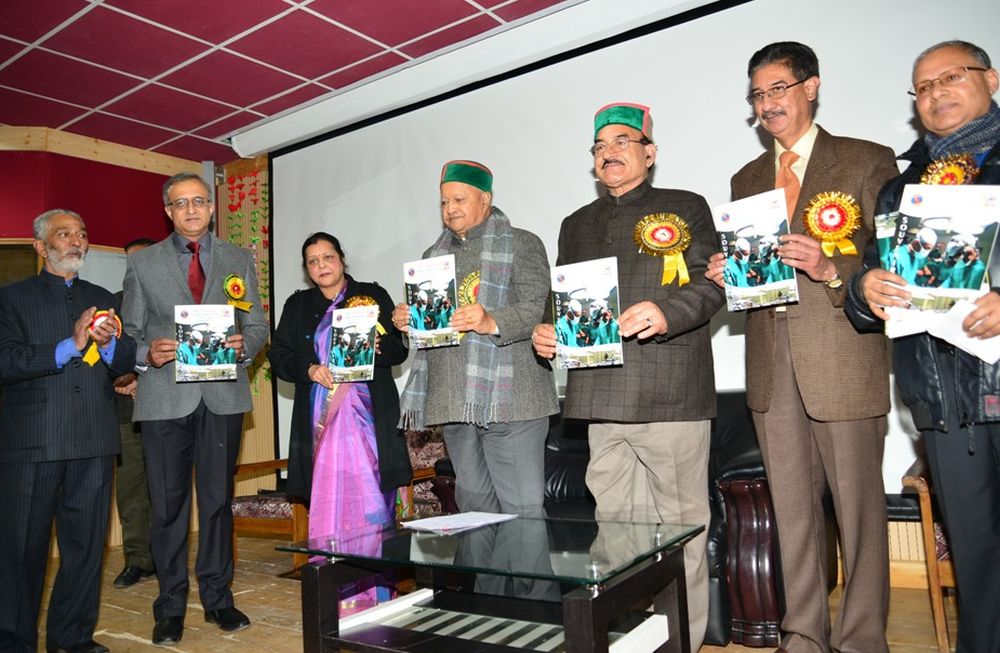 Shimla: After two-hour-long pen down strike of resident doctors of the Indira Gandhi Medical College and Hospital (IGMC), Shimla yesterday, demanding enhancement of their stipend, the Chief Minister Virbhadra Singh has promised to look into their demands sympathetically.
The Chief Minister, speaking at the 10th anniversary of Cardiothoracic & Vascular Surgery (CTVS) Department of IGMC, Shimla, today, stated the strike is no solution and urged the resident doctors to call off their strike in the larger interest of the people.
Demanding to increase the monthly stipend from Rs 25,000 to Rs 65,000 on the line of neighboring states of Punjab, Haryana and UP, protesting resident doctors have blamed the state Health Department for failing to implement their demand even after the assurance from the Chief Minister Virbhadra Singh himself.
Assuring to look into the genuine demands of the protesting doctors, the Chief Minister hailed the contribution of the doctors and credited them for making the IGMC as a beacon of light to other health institution of the State.
The Chief Minister, in his address, congratulated the entire team of the CTVS Department for its remarkable achievements during last ten years especially for performing over 1600 open heart surgeries with a noteworthy success rate of 98 percent.
The Chief Minister said the State Government had always accorded topmost priority to the health sector so that people of the State could avail best health care services within the State. He said
"As far as the health sector is concerned, I have never compromised in providing funds as we need to keep in pace with the latest advancements and techniques especially in premier health institute like IGMC to provide best health care facility besides maintaining standards of medication and surgery"
Health Minister Kaul Singh Thakur said that Government was working in the direction of establishing super speciality block in IGMC and reiterated to strength Tanda Medical College as super speciality institution.
Dr. Rajneesh Pathania, Head, CTVS, detailed about the functioning of the department. He said that the Centre was inaugurated by Shri Virbhadra Singh in the year 2005 as Chief Minister and first open heart surgery was performed on 12 December, 2005 with the help of AIIMS.
Mayor, Municipal Corporation Shimla Sanjay Chauhan, Vice Chairman, HPTDC Harish Janartha, Vice Principal, IGMC Dr. K.P. Chaudhary Additional Director, IGMC K.K. Sharma, Senior Medical Superintendent Dr. Ramesh Chand, faculty and other senior officers were also present on the occasion.