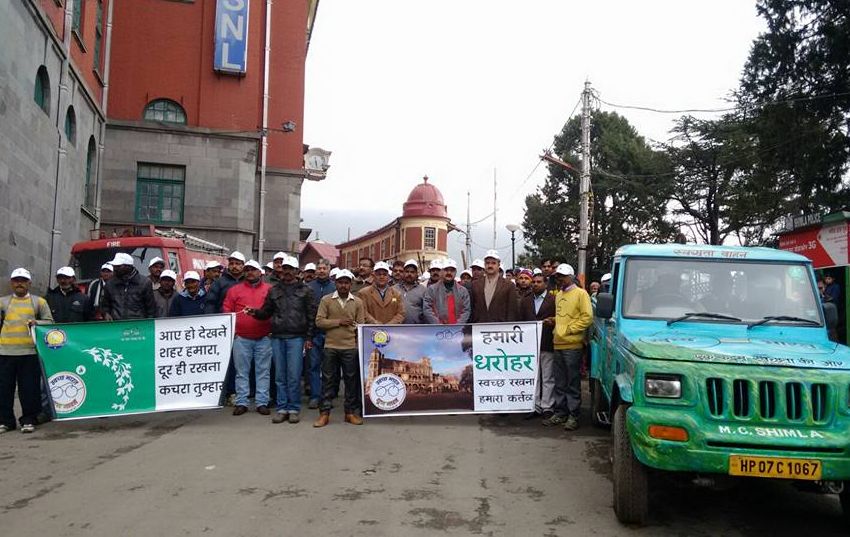 Shimla: As a part of Swachh Bharat Mission's 'Theme Based Cleanliness Drive', Municipal Corporation Shimla today organized a Heritage walk for creating awareness among the Local Residents and Tourists visiting the city to keep the city clean.
MC Shimla Mayor Sanjay Chauhan flagged off the 'walk' from Historical Church on Ridge Ground and culminated at Ambedkar Chowk, Chaura Maidan.
Commissioner, MC Shimla Pankaj Rai, head of the Departments of various departments of MC Shimla, other officers and sanitation workers of MC Shimla too participated in the event.
The banners for appealing people not to litter during their visit to the city were also displayed along the walk and people were appealed through distribution of pamphlets also to join the initiative for making city litter free.
The Swachhta Helpline '1916' was also put into display so that more and more people are made aware of this helpline to report any littering around the city.
Mayor and Commissioner MC Shimla appealed the general public of Shimla city to be a part of efforts being made by Municipal Corporation Shimla to make the city clean and beautiful so that it retains its Historical, Ecological as well as Aesthetic value.