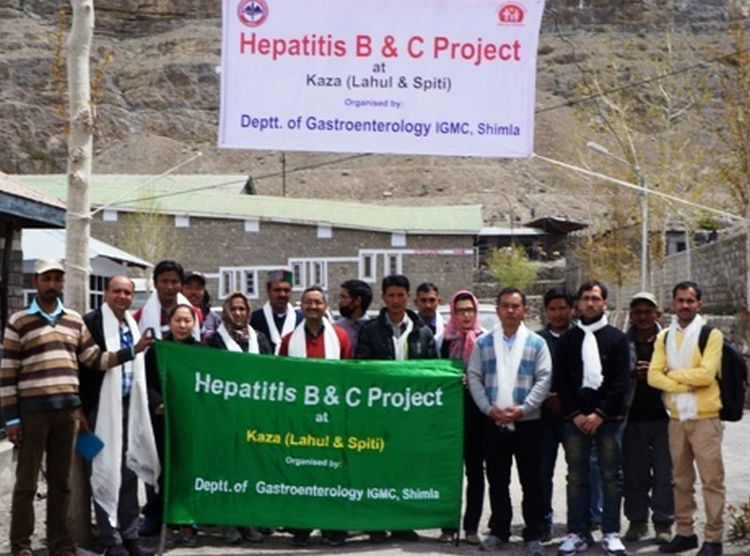 To study the occurrence of Hepatitis B & C and the associated risk factors behind its cause in the tribal region of Kaza of district Lahaul and Spiti, a team of doctors from Indira Gandhi Medical College and hospital, Shimla has started project in collaboration with NHM, Government of India.
Dr. Brij Sharma, HoD, Department of Gastroenterology, heading the project, apprised that team comprises of eight members which include Professor Dr. Anmol Gupta, Department of Community Medicine, medical officers and other staff members from IGMC Shimla.
Dr. Sharma that Hepatitis was a disease with an inflammation of the liver, most commonly caused by a viral infection. He said that Hepatitis B and C usually occurred as a result of par- enteral contact with infected body fluids. Common modes of transmission for these viruses include receipt of contaminated blood or blood products, invasive medical procedures using contaminated equipment and hepatitis B was transmitted from mother to baby at birth, from family member to child, and also by sexual contact, he added.
Dr. Sharma said that Kaza health block in Lahaul & Spiti District has a population of 12,000 and the health institutions in the block include one CHC, five PHCs and 10 health sub-centers. He said that in the past three years high prevalence of viral hepatitis B had been reported to the department of gastroenterology at IGMC from the area. He said that the reasons behind such a high prevalence needed to be investigated.