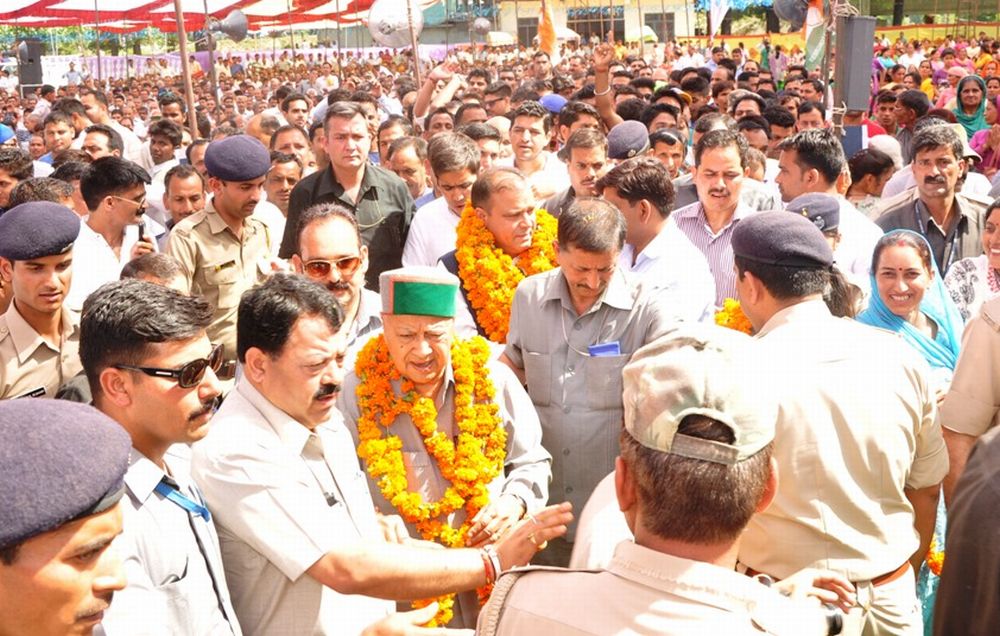 The State BJP has blamed Himachal Pradesh Chief Minister Virbhadra Singh for pursuing caste based politics by blaming a particular caste for the defeat of his wife and Congress nominee Pratibha Singh in 2014 parliamentary elections.
In a joint statement issued here, former Chief Minister and Leader of Opposition Prem Kumar Dhumal and state BJP chief Satpal Singh Satti criticized Virbhadra Singh's statement of 'Brahmanwad' being the reason of his wife's defeat. They said
"Chief Minister has not reconciled to the defeat of his wife Pratibha Singh from Mandi Lok Sabha seat and instead of accepting the defeat, he is leveling baseless accusation against BJP,"
BJP leaders accused Chief Minister for trying to divert the attention of the common people from the failure of his government. They feared that such statements would only lead to division in Himachal's peaceful social structure.
Dhumal said that being the head of the state, Chief Minister should abstain from making such irresponsible comments as such statements from a public platform will set a bad precedent in the state.
Leader of opposition said that elections fought between ideologies and blaming a particular caste or community only will lead to the division of society.
BJP leaders advised Chief Minister to introspect the functioning of his government instead of blaming a particular caste or community for defeat of his wife.
They claimed that law and order situation in the state has become worse and land mafia, transfer mafia, mining and drug mafia are active in the state.
Earlier during his tour to the Mandi district, the Chief Minister had accused BJP for using "Brahmin card" to defeat Congress candidate Pratibah Singh in the 2014 parliamentary election. He had accused BJP for dividing Himachal Pradesh in the name of lower-upper and caste and religion for gaining politically.