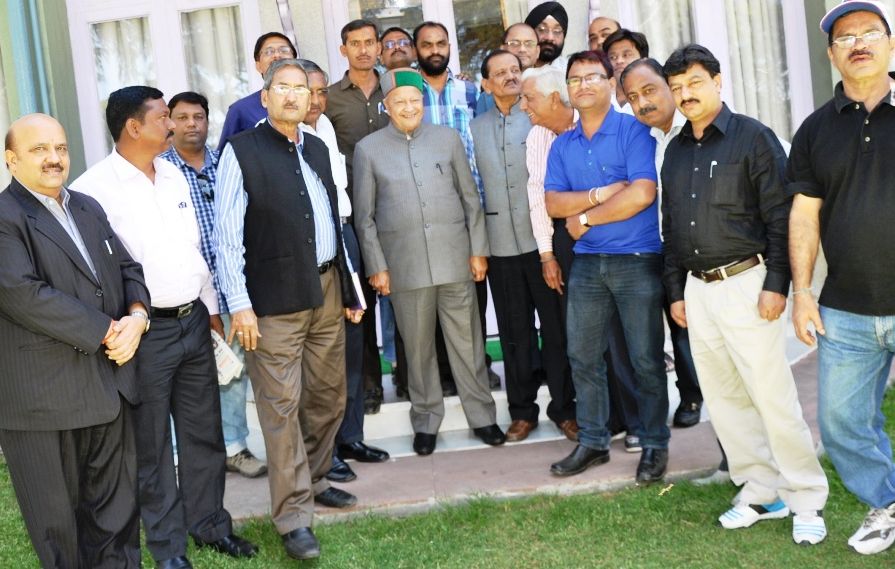 Appreciating the Planning Commission, which now is replaced by National Institution for Transforming India (NITI) Ayog, Chief Minister Virbhadra Singh said that Planning Commission was far better as far as the welfare of the States was concerned and used to take up the issues of States strongly with the concerned Ministries as opposite to NITI Ayog, which he personally feels has no clear directives for special category states like Himachal Pradesh and Uttrakhand.
He was interacting with the Chattisgarh Vidhan Sabha Press Advisory Committee members which met the Chief Minister at his official residence here today.
The Chief Minister said that North Eastern States, Himachal Pradesh, Uttrakhand, Jammu and Kashmir were declared as special category states and used to get financial assistance from the centre in 90:10 or 70:30 ratio, but with NITI Ayog replacing planning commission, with Prime Minister as its Chairman and all Chief Ministers as its members, the worst sufferer states were Himachal and Uttrakhand.
Virbhadra Singh said that there were separate 'Donor Ministries' for the North Eastern States whereas Jammu and Kashmir was getting the special assistance because of its special status granted way back. The Chief Minister said that there were neither any special instructions nor any clear policy of assistance for the states of Himachal Pradesh and Uttrakhand.
"I have written to the Prime Minister of India and have requested him to maintain the special Status of both the States because of similar geographical topography matching North Eastern States" said the Chief Minister, adding that he hopes that some changes would certainly be made in the NITI Ayog for Himachal Pradesh.
Speaking on the Land Acquisition Bill, the Chief Minister said that landowners or those, whose occupations were dependent on the land originally or even those whose lives or livelihoods were to be affected by the project for which land is acquired for real estates should be fully compensated.
He said there were other issues however, such as compensation should not be denied/reduced even if land-for-land is provided, and that those who are losing their livelihood because of land acquisition should also be given adequate monetary compensation. These are major issues which remain unaddressed in this version of the bill and affecting the farmers at large.