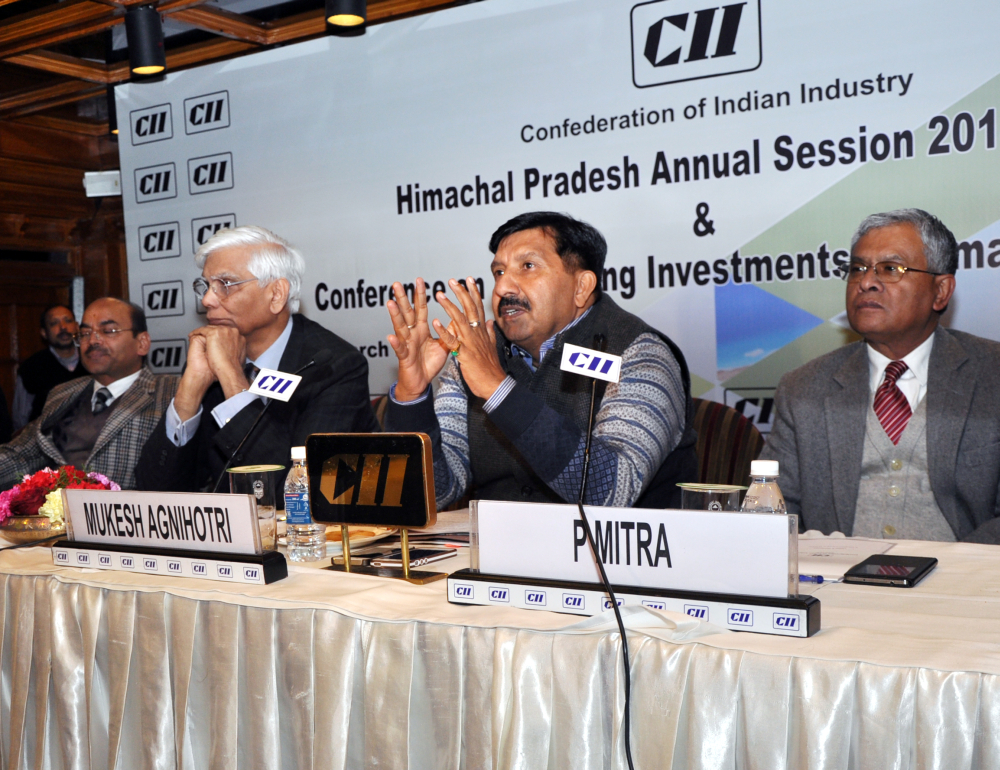 To attract industrial investment in the state, Government committed to provide conducive and transparent atmosphere for investors. In an Annual Session of CII HP State Council, Industries Minister Mukesh Agnihotri said the state government aiming to attract investment in crucial sectors such as infrastructure, pharmaceutical, horticulture, agro, food & fruits processing, textiles, tourism, light engineering, cement, hydro-energy in the State and also providing incentives to entrepreneurs.
Agnihotri said that it was due to the proactive co-operation of the CII that in Investors' Meet under Emerging Himachal Campaign was successfully organized at Mumbai, Ahmedabad and Benguluru which had resulted in attracting investment proposals worth about Rs 2500 crore for the State. He said that the State Government was providing several incentives to the entrepreneurs to make Himachal Pradesh an 'Industrial Hub' of the country. He said that a 'H.P Investment promotion Cell' has been set up to draw new investment in the State.
Industries Minister said that New 'State of Art' Industrial Areas were being developed at Pandoga in District Una and Kandrori in District Kangra with an investment of Rs. 219 crore. A Technology Center was being developed at Baddi with an estimated cost of about Rs. 147 crore, he added. He said that in order to facilitate the entrepreneurs, approval for purchase of land for industrial units under Section-118 of H.P Tenancy and Land Reforms Act has being simplified and Floor Area Ratio for industries has been increased under the Town and Country Planning Act and Rules.
Agnihotri said that Tahliwal was emerging as a first industrial area in the State having piped gas for industrial use. He said that the State Government was contemplating to have more industrial areas in the State with similar amenities.
Acknowledging the role of private players in providing the desired impetus to the economy of the State, Agnihotri urged the CII for its co-operation in augmenting the economy of the State.
Appreciating the initiative of CII in upgrading ITIs, Agnihotri said that all leading industrial associations need to allocate resources for the vital work of building the capabilities of youth of the country.
Industries Minister released a Report on 'Attracting Investments in HP' on the occasion.
Principal Secretary, Industries R.D. Dhiman while addressing the session detailed various incentives being provided by the State Government for the entrepreneurs interested to invest in the State. He said that the State Government was working more pro-actively towards labour welfare.
Shreekant Somany, Deputy Chairman CII Northern Region and Chairman and Managing Director Somany Ceramics Ltd. appreciated the efforts being made by the State Government for promoting Himachal Pradesh as an ideal investment destination. He said that recently the World Bank has appreciated the State for balancing economic growth with social inclusion and had emerged as one of the State with best human development outcomes in the country.
Chairman, CII Himachal Pradesh State Council Arun Rawat welcomed the Industries Minister and other delegates. He also detailed various activities of the CII.
Vice Chairman CII Himachal Pradesh State Council, Rajiv Aggarwal presented vote of thanks.
Director Grant Thornton Kunal Sood gave presentation on 'Attracting Investment in Himachal Pradesh'. An Open House Session was held on the occasion, wherein delegates gave their valuable suggestions.
Chief Secretary, P. Mitra, Principal Secretary Finance Dr Shrikant Baldi, Principal Secretary, MPP& Power and Excise & Taxation S.K.B.S. Negi, Member Secretary State Pollution Control Board Vineet Kumar, Director Industries Rajinder Thakur and other senior officers of the State Government and delegates of CII participated in the Annual Session.