The debt of Himachal Pradesh is pilling incessantly and time and again successive state government have claimed of taking steps to collect taxes effectively and identify new avenues to enhance the income of the state.
However, RTI revelation by Dev Ashish Bhattacharya depicts another side of story and denting motto's of Department of Excise and Taxation i.e. 'Towards Economic Self Reliance'.
In the information obtained through RTI, the Department of Excise and Taxation has collected Rs. 82, 07, 32,716/- (82.7 crores) as luxury tax from 1607 hotels (including 35 HPTDC hotels) in last 5 years from 10 revenue districts of Himachal Pradesh (not including the revenue districts of Shimla and Solan, as they have failed to provide the said information as on date).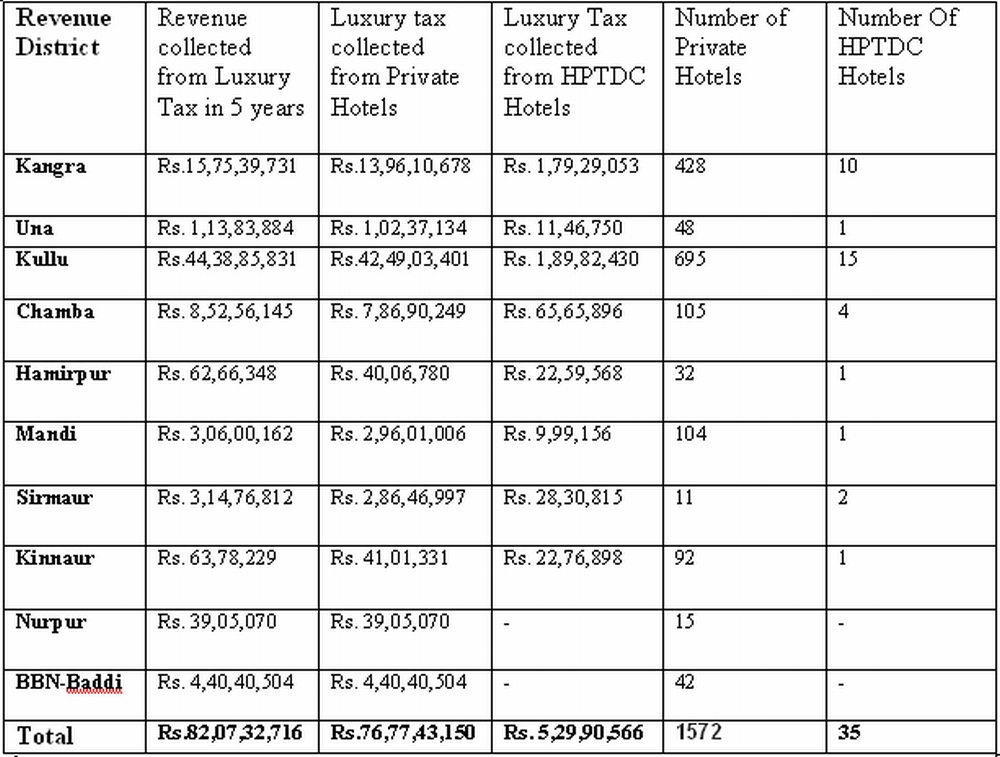 As per the information provided, in the last 5 years, 1572 private hotels have contributed Rs. 76,77,43,150/- ( 76.77 crores) and 35 HPTDC run hotels have contributed Rs. 5,29,90,566/- (5.29 crores) towards the luxury tax.
Bhattacharya said that 35 HPTDC hotels have generated Rs. 5,29,90,566/- on the average of Rs. 15,14,016/- per hotel, while 1572 Private hotels, who were reportedly doing better business then HPTDC properties, have contributed Rs.76,77,43,150 that calculated to slightly over Rs. 4,88, 386 /- per hotel.
RTI activists has raised doubts over the huge difference in the luxury tax collection and raised finger functioning of Department of Excise and Taxation of the state and accused it for going soft on the managements of private hotels and that caused immense loss to the state exchequer.
Bhattacharya claimed that the occupancy rate of private hotels is far better than Himachal Tourism Hotels and even if Luxury Tax from the Private Hotels were calculated on the average of HPTDC hotels, 1572 private hotels should have been generated Rs. 2,38,003,3421/- (238 crores).
RTI activists claimed that the Department of Excise and Taxation Himachal Pradesh has caused 68 percent average shortfall in the collection of luxury tax from 1572 private hotels in 5 years and demanded a high powered probe in it.