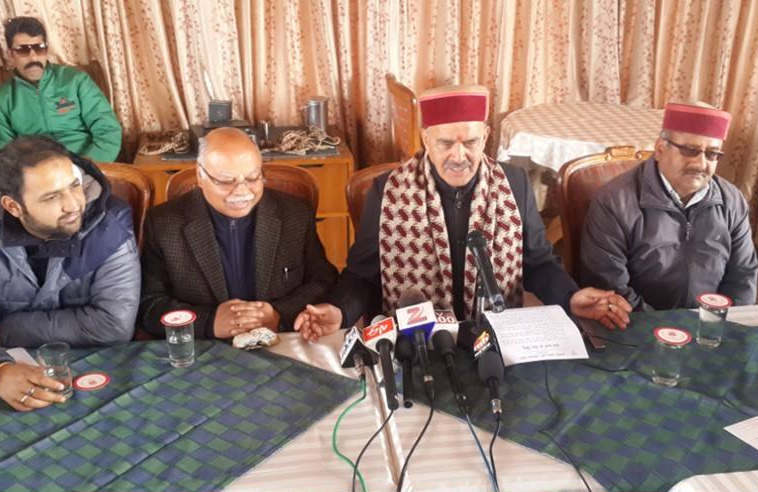 The Himachal Pradesh BJP has taken aggressive stand against the state government after the recommendations of former Governor Urmila Singh to impose penalty on the erring officers alleging of concealing facts in the AN Sharma case.
Speaking to the press, BJP state spokesman Ganesh Dutt said the remarks of the Governor had vindicated the stand of the BJP that the government was selectively targeting the political opponents, especially former Chief Minister Prem Kumar Dhumal.
Dutt demanded to initiate disciplinary action against erring officials and threatened to approach the Governor or move the court, if government failed to do so.
BJP spokesperson has also warned officers for not crossing limits to oblige the government. He advised them to function as public servants and discharge their duties in a fair and impartial manner.
Earlier, yesterday, it was reported that former Governor Urmila Singh, on January 21, had wrote to the government trashing the entire case registered by the State Vigilance and Anti-corruption Bureau under section 420 and 120 -B of IPC against former CM Prem Kumar Dhumal, two senior IAS offcers and IPS officer.
In her two-page note, former Governor had conveyed her serious displeasure to the government for concealing vital facts of the case. She also accused certain officers in the state's home and vigilance department for hiding the facts while submitting the matter for prosecution sanction under section 13 of Prevention of Corruption Act 1988 and recommended a disciplinary action. Quoting Supreme Court ruling in the cases, former Governor stated that a clear law has been laid down that prosecution sanction was not required from the Governor.