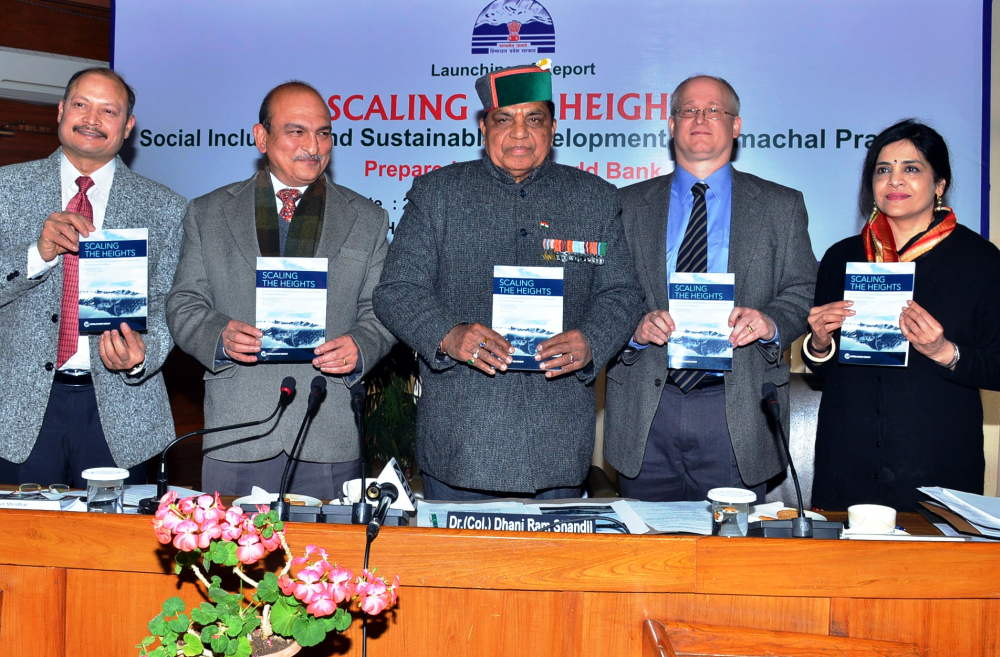 In a World Bank Report 'Scaling the Heights: Social inclusion and sustainable development" on Himachal Pradesh, the state has effectively balanced economic growth with social inclusion and has made great strides in reducing poverty and has emerged as one of the states with the best human development outcomes in the country.
The World Bank report, which was launched by Social Justice and Empowerment Minister Dr. (Col.) Dhani Ram Shandil, suggests that the state education attainment is among the best in the country, poverty headcount is nearly one-third of the national average, life expectancy is 3.4 years longer than an average Indian expects to live and the per capita income is the second highest in India.
The report says that inter-group disparities are also low, where traditionally disadvantaged groups such as the SC's and ST's make up a considerable 30 percent of the population. Himachal is ahead of many other states in demonstrating a sense of environmental consciousness, says the report.
The state had another bigger story of women employment where about 63 percent women in rural areas have reported themselves as employed, which is highest in India.
Dr. Shandil complemented the World Bank team for its efforts in preparing a comprehensive report on impact of economic growth on poverty and social issues in Himachal Pradesh.
Additional Chief Secretary Tarun Shridhar said that Himachal Pradesh had taken lead in implementation of various national programmes and the state had also given special emphasis on infrastructural development. The state had also prepared a plan to mitigate the natural disasters which had been well appreciated by the government of India.
John Blomquist. Programme Leader, South Asia Region of the World Bank said that Himachal Pradesh had the reputation of being stable, inclusive, cohesive and well governed state and it stood apart in many respects from other state in North India.
Maitreyi Das, Lead Social Development Specialist, GSURR of the World Bank, who has prepared this report, said that Himachal Pradesh stood apart from many other states with its strong track record of poverty reduction, service delivery and human and social development outcomes. She also presented the report on the occasion.
Additional Chief Secretary P.C Dhiman, Principal Secretary, Finance and Planning Dr. Shrikant Baldi, Advisor, Planning Akshay Sood other senior officers of the state government, delegates of the World Bank, representative of various NGO's and other senior were also present on the occasion.