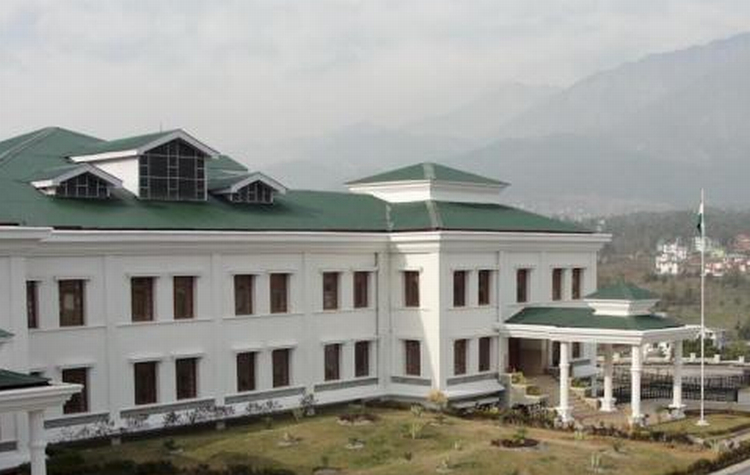 Tapovan: Blaming government for violating section 118 of the Himachal Pradesh Tenancy and Land Reforms Act of 1972, the opposition walked out on the fourth days of the winter session of the state assembly.
The opposition BJP accused Congress led state government for "blatantly favouring and regularising" Hotel Korinns in Barog in Solan district. BJP questioned government's intension and termed the move as a blatant violation of section 118.
Leader of Opposition Prem Kumar Dhumal said this property was to be vested with the government as per a decision taken during his tenure. He accused the Government for violating the section and favouring its close confidents. Other opposition members raised slogans in the house.
Revenue Minister Kaul Singh Thakur, however, tried to pacify the opposition members and clarified that the Cabinet gave permission to 118 on humanitarian grounds, as the owner is a woman and in the interest of tourism promotion in the state.
Upon it, Leader of opposition asked how much permission under section 118 was given to women on humanitarian grounds. He accused the Congress led Govt for favouring the Korinns hotel even after snub from the High Court and the Supreme Court to the owner.
Unsatisfied with the Revenue Minister reply, the opposition start raising slogans against government like 'Himachal on Sale' and staged walked out from the house.
Earlier, opposition raised the matter in response to a query of BJP MLA Mahinder Singh Thakur regarding the number of permissions given by the government under Section 118 of the Act in the last two years.
The Revenue Minister informed the House that in the last two years, the government had given permission in 240 cases.
Mahinder Singh Thakur raised question over the role of the state government for favouring the Korinns hotel Barog. Thakur claimed that the government regularised the illegal property after imposing a fine of just Rs 2 lakh.
After walking out from the house, Dhumal accused Govt for misusing its power. Giving detail of the Hotel, he said the owner of hotel initially applied for permission under Section 118 in 1981, but failing for the same it was ordered to demolish.
Dhumal further added that the land was vest in the government in 2005 and despite that, the previous Congress government ordered the then DC to regularise the land after imposing a fine of Rs 2 lakh.