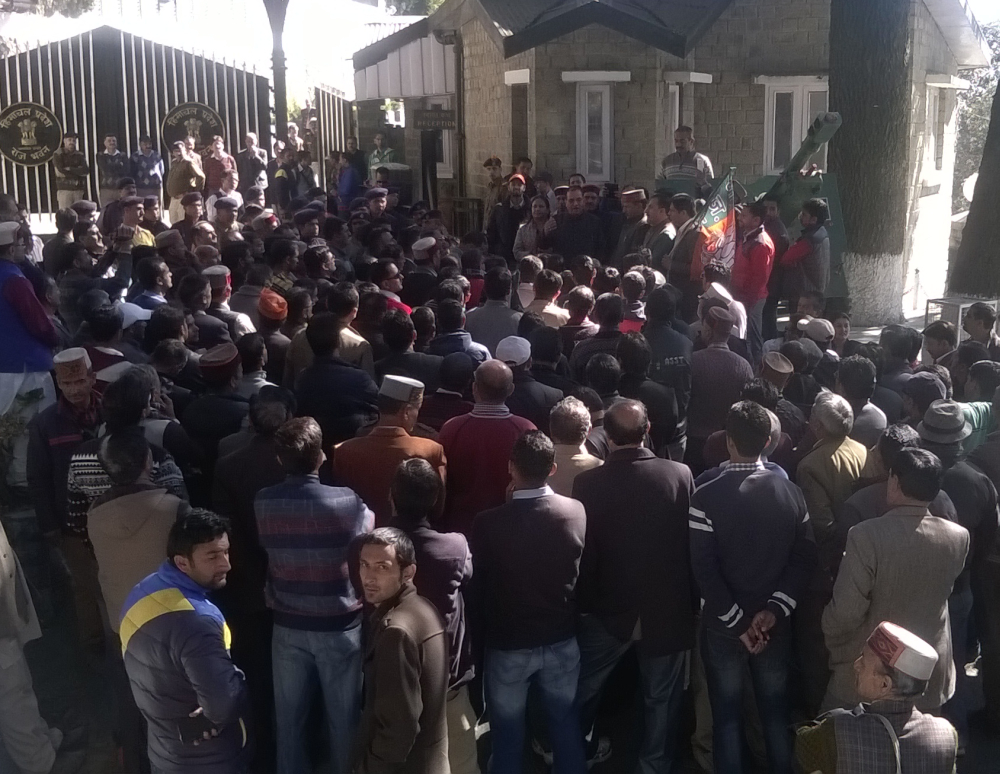 Shimla: Himachal Pradesh BJP completes its seven day long Sadak Sangharsh Yatra (Road Protest Rally) here today.
Narinder Bragta, along with party leaders and workers, assembled at The Historic Ridge maidan and led the rally from Mall Road to Rajbhawan. En-route protesting party activists also met former Chief Minister Prem Kumar Dhumal at his official residence.
Dhumal congratulates Narinder Bragta and party workers for successfully completing Sadak Sangharsh Yatra and raising people's voice with authority. In his address, Dhumal accused the Congress led state government for stalling the development of the state. He said that in the past 23 months, the state government has done nothing on developmental front. He also accused Congress leaders for playing politics of region.
BJP leaders then submitted memorandum to Governor, Himachal Pradesh, and demanded her to take immediate action in this regard.
Former Cabinet Minister Rajiv Bindal, legislature Suresh Bhardwaj, Suresh Kashyap, Baldev Tomar, ex MLA Rakesh Verma, Khushi Ram Balnahta, State spokesperson Ganesh Dutt and many other party leaders and activists were also present.
However, the Himachal Pradesh Congress has termed the protest march as a political drama. Rohit Thakur, Chief Parliamentary Secretary and MLA from Jubbal-Kotkhai assembly constituency claimed that the BJP was misleading the people of Shimla district to cover up the failures of its own regime.
Thakur claimed that Congress Govt is committed to provide better connectivity to the people of the Shimla region and keeping in view its importance in apple economy and also from tourism point of view.
Rohit Thakur said that the State Government was resolute to complete this road project within three years time period and if concerned company failed to complete the work in stipulated time period, strict action would be initiated against it, Thakur further added.
Thakur said that it was shameful that the BJP leaders instead of feeling sorry for delaying the project were politicizing the entire issue with an ulterior motive. He said that people were not going to be carried by the cheap gimmicks of the BJP leaders.