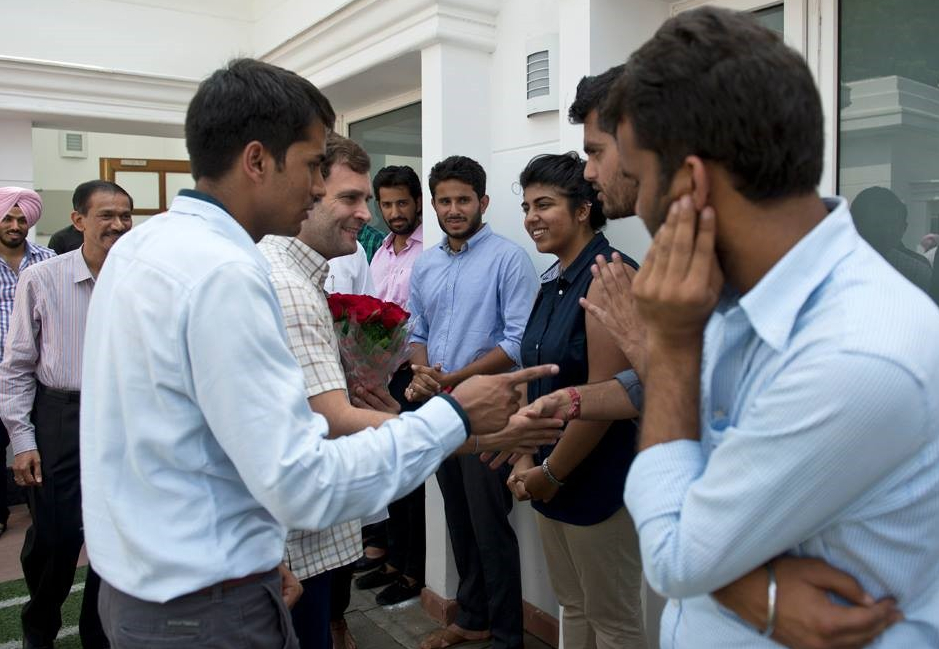 National Students' Union of India (NSUI) National General Secretary and in-charge of Punjab and Chandigarh Nigam Bhandari attributed the unprecedented win in recently concluded Panjab University Campus Students' Council (PUCSC) poll, in which Indian National Congress-backed student wing created history by winning three of the four top posts, to the cadre and Congress party Vice-President Rahul Gandhi.
Nigam, hails from Kinnaur district of the Himachal Pradesh, lauded the role of every activist and asserted that the NSUI cadre works as a team and thus resulted into a big win. He said that the team-work proved decisive for the NSUI to wrench three important seats in the election.
NSUI General Secretary also led the winning NSUI candidates Divyanshu Bhudiraja, Snigdha Bawa and Ankush Sherawat elected President, Vice-President and General Secretary respectively and Sachin Kanwar, who lost with a narrow margin of 44 votes for the post of Joint Secretary and other important NSUI activists to meet party national president Sonia Gandhi and Rahul Gandhi at New Delhi.
Youth leader Nigam Bhandari is associates with the NSUI from past nine years. He was elected HP University campus President in year of 2009-10 and elected NSUI State General Secretary in the same year. Later in 2011, Nigam was nominated for NSUI National Secretary and while remaining on the post, he was made State in-charge of Andaman, Nicobar, Daman & Diu, Dadra & Nagar Haveli, Maharashtra, Mumbai, Odisha. Presently he's serving NSUI as National General Secretary and made in-charge of Punjab and Chandigarh.