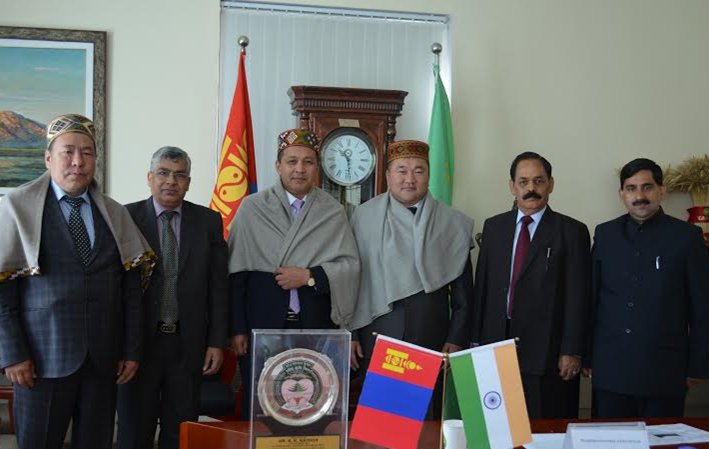 A delegation of Chaudhary Sarwan Kumar Himachal Pradesh Agriculture University Palampur (CSKHPAU), led by vice-chancellor Dr. K.K. Katoch, is on a visit to Mongolia to hold talks with officials of Mongolian University of Life Sciences (MULS) for cooperation in the various fields.
Mongolian University President Dr. T. Kheruuga expressed strong desire for mutual cooperation between the two universities in the field of Teaching, Research, Extension and Business.
Dr. Katoch expressed CSKHPAU interest in exchange of UG and PG students, faculty exchange in the fields of agriculture and veterinary and animal husbandry, agriculture, veterinary and animal husbandry, home science and basic sciences, which included cooperation in the field of improvement of crops especially winter wheat, barley, oats, sea- buckthorn and fodder and forage crops especially production of Lucerne which can only be had in cold desert / cold area. Dr. Katoch apprised the MULS that in the field of animal husbandry, both universities can have collaboration with respect to the Spiti horse, Gaddi goat, chegu / pashmina goat and yak.
Both Universities also discussed the possibilities of collaboration in the field of Natural resource Management (Soil and Water Conservation), Organic agriculture, bio-pesticide formulation for insect pest control, studies on climate change and mitigation of ill impact on crops and livestock, characterization and improvement of local breeders of animals; veterinary health services; animal nutrition; fodder cultivation and rangeland management.
Delegation also contemplated exchanging extension methodologies for faster dissemination of technologies to the end users and export of Organic Tea from CSKHPAU.
Delegation also desired to hold seminars and conference in the field of common interest; exchange of books published by both the universities; exchange of planting material of sea-buckthorn and technologies related to its utilization; and also establishment of joint business enterprises.
Batbold, Member of Parliament, Govt. of Mongolia, who is also the Member of Council of the Mongolian University of Life Sciences, shown keen interest for the collaboration between both universities.
Kewal Singh Pathania, Member, Board of Management (BOM) of CSKHPAU invited Batbold and the Dr. T. Kheruuga of on behalf of Himachal Pradesh Chief Minister Virbhadra Singh.
Earlier, Dr. S. P Sharma, Director of Research, made a presentation on the overview through a Power Point Presentation. A documentary film on the activities of CSKHPAU was also showed at MULS.