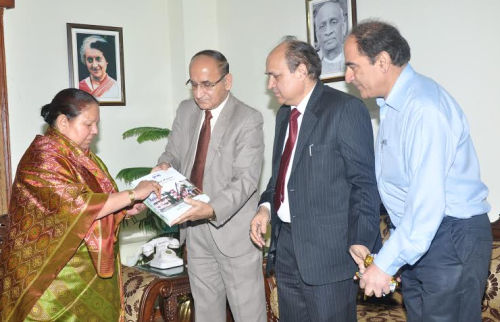 Shimla: Chairman HP Public Service Commission, K.S. Tomar today called on Governor Urmila Singh at Rajbhawan here today and presented the copies of Annual reports for the year 2011-12 and 2012-13 which would be subsequently presented in the Vidhan Sabha during the session.
Tomar apprised the Governor of the reforms introduced by him during the first year of the tenure which had yielded desired results.
He informed the Governor about the success of the Toll free service which has benefited thousands of the candidates specially belonging to rural areas in the state, besides reforms like E Payment, installation of jammer at examination centres, Bar Code System to maintain secrecy, Optical Marker Reader (OMR) outer sheet for conventional examinations like HAS, HJS, etc., initiated by the Commission.
Tomar also approsed Governor about Commission's plan of opening a modern and Model Library in its new block, which will be first of its kind in the entire country and it shall help candidates to prepare for various competitive examinations like HAS, IAS etc.
The State government has already sanctioned Rs 2.80 crore to construct the New Block.
Chairman also told the Governor that an E-Governance project having estimated cost at Rs 6.48 crore has been sent to IT ministry of union government which will ensure complete computerization in the commission and lay foundation of Paperless Online examinations of various competitions being conducted by the commission.
Urmila Singh appreciated the efforts and hoped that they would go a long way in strengthening the commission besides facilitating the candidates preparing for various exams of the commission. Secretary of the commission B.C. Badalia was also present on the occasion.