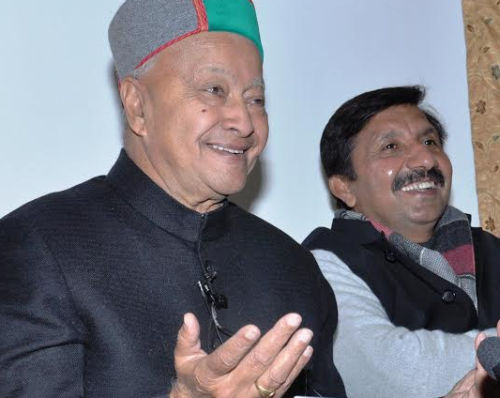 The Chief Minister Virbhadra Singh led Himachal Pradesh Government has completed one year in office. The Congress has formed government on 25th December 2012. Congress and Chief Minister Virbhadra Singh termed it a successful year and claimed to execute various developmental projects for the masses. In a press conference organised at HP secretariat, CM detailed out his Govt achievements. Singh claimed that Congress led Govt has ensure overall development of the state.
Detail of important Decisions and Salient Achievements of one year of HP Government:
 Election Manifesto of the Congress Party adopted as policy document of the State Government for fulfillment of promises made to the people of the State during the Vidhan Sabha Election.
 Rajiv Gandhi Ann Yojana launched to provide food security to the people. 36.82 lakh people being provided three kg of wheat at Rs. 2 per kg and two kg of rice at Rs. 3 per kg per month. All the BPL families to get 35 kg ration per month as usual.
 The State Government has made a budget provision of Rs. 175 crore under State Food grain Subsidy Scheme during current financial.
 An additional budgetary provision of Rs. 62 crore being made for providing ration at subsidized rate to the consumers.
 Skill Development Allowance Scheme-2013 launched for skill upgradation of educated unemployed youth. Skill Development Allowance of Rs 1000 per month is being given to educated unemployed youth. This allowance is Rs 1500 per month for persons with disabilities.
 The age limit for eligibility under the scheme is 16 years to 35 years and educational qualification is 8th pass. Decision to provide relaxation in educational qualification of candidates interested in pursuing training in certain vocation like masonry, carpentry, plumber etc.
 Applicant provided facility of self attestation of documents.
 Free travelling facility to all the students of government schools from home to school and vice versa in Himachal Road Transport Corporation (HRTC) buses.
 Free school uniform to school students being provided under Mahatma Gandhi Vardi Yojana.
 Mukhyamantri Adarsh Krishi Gram Yojana launched. Agriculture development scheme worth Rs. 10 lakh each prepared for one Panchayat in each Vidhan Sabha Constituency.
 1.5 lakh new families added to the existing 2.35 lakh families under Rashtriya Swasthya Bima Yojana (RSBY).
 424 generic medicines would be provided free of cost in Government Health Institutions.
 Social Security Pension enhanced from Rs. 450 to Rs. 500 per month. Pensioners above 80 years of age being given pension of Rs. 1000 per month.
 All the pending cases of Social Security pension sanctioned. 2,92,921 old, widows and physically challenged being provided social security pension.
 Rs 1096.97 lakh assistance provided to 3787 needy people from Chief Minister's Relief Fund.
 Assistance under Mukhya Mantri Kanya Dan Yojna, enhanced from Rs. 21,000 to Rs. 25,000, financial assistance under inter-caste marriage and for widows remarriage enhanced from Rs. 25,000 to Rs. 50,000.
 State Women Welfare Board constituted.
 Marriage Grant for destitute women enhanced to Rs 25,000.
 Five Women to get 'Himachal Mahila Purashar' for their outstanding contribution in the field of education, health, empowerment, sports, culture and social services.
 Rapid Women Police Force established on the occasion of International Women's Day.
 Rs 1014 crore earmarked under the Scheduled Caste Sub-Plan for the year 2013-14, which is Rs 100 crore more than the previous year's allocation.
 Rs 369 crore earmarked for Tribal Sub Plan during 2013-14, which is 11 per cent more than the previous year. Rs 764 crore allocated this year, which included non-plan allocation.
 Income limit for determining creamy layer amongst Other Backward Classes enhanced for Rs 4.5 lakh to Rs 6 lakh per annum.
 27,565 Scheduled Caste families benefited under 20 Point Programme.
 2,518 Scheduled Caste and Scheduled Tribe families benefited under Self-employment Scheme.
 Housing Subsidy under State Housing Schemes enhanced for Rs 48,500 to Rs 75,000.
 As many as 11,815 houses constructed under Indira Awas Yojana by spending Rs 3212.19 lakh. Approval accorded to construct 1241 houses under Rajiv Awas Yojana.
 Foundation stone laid under Rajiv Awas Yojna for construction of 300 housing units for slum dwellers at Krishna Nagar, Shimla by spending an amount of Rs 34 crore.
 Rs 285.75 crore sanctioned under World Bank Rural Road Project for construction of 19 new roads and three bridges besides mettaling and tarring of 122 roads.
 117 additional villages connected with roads. 403 kms new roads and 29 bridges constructed. Periodical renewal done on 1554 kms road length.
 384 kms roads constructed under Prime Minister Gram Sadak Yojana during this period and 91 habitats connected by roads.
 Approval accorded to construct Ajoli-Laluwal Road in Una district by spending an amount of Rs 15.15 crore. Union Commerce Ministry to spend Rs 13 crore, first instalment of Rs 6 crore released. Himachal Pradesh releases its share of Rs 2.15 crore.
 Provision for dissolution of Private Universities has been enhanced from 25 years to 50 years for ensuring commitment to the education of students.
 Services of more than 6300 PTA teachers would be converted on contract basis after completion of eight years of continuous service.
 Services of about 2100 Para Teachers would be regularized after completion of 10 years of continuous service.
 The State Government has enhanced honorarium of more than 3500 Primary Assistant Teachers to Rs. 8900 per month.
 5000 net books to be provided to meritorious student of 10th and 10+2 under Rajiv Gandhi Digital Student Scheme.
 All those 149 Government Schools which were de-notified during the previous regime reopened.
 100 posts of Punjabi and 100 posts of Urdu language teachers to be filled.
 IIIT to be opened in Una district by spending an amount of Rs 122 crore.
 One time Incentive/award of Rs 75,000 would be provided to all those students of the State who are selected are admitted in degree courses in any Indian Institute of Technology or All India Institute of Medical Sciences and in Post Graduate/Diploma course in any Indian Institute of Management.
 7750 ASHA workers to be recruited in the State under ASHA Workers Scheme.
 Centre Government would provide financial assistance in the ratio of 90:10 under the National Health Mission.
 Decision to bring services of the doctors appointed on contract basis under Rogi Kalayan Simiti under the fold of Government contract. Policy framed to regularize the services of dental doctors appointed under the Rogi Kalayan Simiti on analogy of general medical officers.
 Indira Gandhi Medical College (IGMC) included in PMSSY. Second campus of IGMC would be constructed near Ghanahatti in Shimla district at a cost of Rs 150 crore. The premises will house a new 100 bedded Hospital, Dental College and Nursing College.
 Cadre strength of doctors increased from 1598 to 1793. 142 Medical Officers appointed during this period.
 60 new ambulances added to 108 Ambulance Service.
 Anaemia Control Programme launched for six lakh children in the State.
 National Food Security Mission launched to increase production of Wheat and Rice. Rs 22 crore would be spent under this Mission.
 Decision to provide 50 per cent subsidy on all type of seeds during Rabi season and subsidy on mixed fertilizers enhanced from Rs 500 to Rs 1000 per metric tonne. 50 per cent subsidy being provided on all insecticides and plant protection materials.
 25 per cent subsidy provided for the first time on water soluble fertilizers.
 Organic farming being encouraged. 35,729 farmers registered for organic farming. 13,138 hectare area brought under organic farming.
 Cent percent subsidy on Organic Certification and 50 per cent subsidy on organic production.
 Anti hail nets provided to horticulturists on 80% subsidy.
 Under free soil testing facility to the farmers, 61,819 soil samples tested and 60,213 Soil Health Cards distributed to the farmers.
 27.11 lakh fruit plants disbursed amongst horticulturists. 11,049 additional area brought under horticulture.
 50 to 85 per cent subsidy being provided to horticulturist for construction of Green House.
 Procurement price of Apple, Mango, Kinnow, Malta and Galgal increased by 50 paisa per kg.
 Procurement price of milk increased by Rs. 1 per litre.
 Embryo Transplant Technique adopted for developing hybrid breed of cattle.
 Fishermen fishing in ponds brought under Fishermen Risk Fund Scheme.
 Safe drinking water provided to 1327 habitations during this period. 2000 hand pumps to be installed in water scarcity area during the current financial year, out of these 1315 hand pumps installed.
 Foundation Stone of Rs 922.48 crore Swan River Channelization Project in Una district laid. All the 73 rivulets of the districts would be channelized and 7163.49 hectare area would be made cultivable.
 DPR worth Rs 179.59 crore approved by the Union Water Resource Ministry for channelization of Chhonch Khud in Indora tehsil of Kangra district.
 Foundation stone of Rs. 21 crore drinking water supply scheme for Dharamshala city laid. 50,000 people to be benefited from this scheme.
 Duration of Mid Himalayan Watershed Development Project extended from 2013 to 2016 and the amount enhanced from Rs 365 crore to Rs 600 crore. 704 panchayats in 10 districts of the State to be benefited.
 775 villages excluded from Sanctuary areas by rationalizing Wild life Sanctuaries, this has benefited one lakh people.
 11.56 lakh job cards distributed under MGNREGA during this period and Rs 45,625.85 lakh spent on its effective implementation.
 Central Capital Investment Subsidy (CIS) extended for Himachal Pradesh w.e.f. 7th January 2013 to 31st March, 2017.
 Regional Centre of Indian Institute of Foreign Trade (IIFT) would be set up at Shimla for studies of Small & Medium Enterprises (SME) with a cost of Rs. 50 crore.
 New Industrial Areas being developed in Solan, Una and Kangra districts.
 Technical Park to be developed at Baddi in Solan district by spending an amount of Rs 147 crore.
 Gas Authority of India approves gas pipe line of Tahliwal industrial area in Una district.
 Union Government gives its nod to connect Baddi industrial area with Chandigarh by rail line. The State Government would bear 50 per cent of the total cost of laying broad gauge line.
 Railways Ministry sanctions Rs 28 crore for construction of rail track beyond Amb on Nangal-Talwara rail line.
 43,781 workers and 256 units registered with Himachal Pradesh Building and Other Construction Workers Welfare Board. Benefits worth Rs 155.34 lakh disbursed.
 Decision to provide Induction heater, Solar Lamp and Cycle to the workers registered with the Board.
 Provision to provide Rs 25, 000 for the marriage of the workers and his/her two children.
 Rs 1 lakh compensation to be provided to the dependants of the worker in event on death at work place and Rs 50,000 in case of natural death.
 Rs 320 crore grants provided for ensuring electricity at subsidized rate to domestic and agriculture sector consumers.
 MoU singed for execution of 16 micro hydro electric power projects.
 Target to exploit 1918 MW power potential during the current financial year.
 Approval accorded in principle for execution of Rs 5 crore Una-Nadaun Circuit, Rs 8 crore Buddha Circuit and Rs 8 crore Rural Cluster Development Tourist Circuit.
 Exemption of Luxury Tax to new hotels and tourist facilities in the backward panchayats of the State under the HP Tax on Luxuries (in hotels and lodging houses) for a period of 10 years in order to promote tourism activities in these areas.
 Amended Tourism Policy approved of the State.
 Proposals worth over Rs.700 crore covering 27 Urban Local Bodies under UIDSSMT of Jawahar Lal Nehru Urban Renewable Mission have been submitted for approval/appraisal to MoUD. Capacity Building proposal for Rs.65 crore has also been proposed and submitted for funding under JNNURM.
 Contractual employees completing 6 years of service, Daily wage employees completing 7 years of service as on 31st March 2013 regularized as per norms.
 Winter allowance of employees of the State working in tribal and hard areas enhanced from Rs 200 to Rs 300 per month.
 The pension/family pension of pre-2006 pensioners/family pensioners up to 50% and 30% of the sum of minimum of the pay in the pay band and grade pay corresponding to the pre-revised pay scales from which pensioner had retired/ died has been stepped-up.
 8% Dearness Allowance payable from 1st January, 2013 released to all the employees and pensioners of the State. Rs. 350 crore spent.
 Annual income limit for for providing employment on compassionate ground enhanced from Rs. 75,000 to Rs. 1,25,000. 404 dependents provided employment on compassionate ground.
 18,062 posts of different categories approved/filled. These include 6504 posts in Education Department, 8463 posts in Health Department, 206 posts in Forest Department, 910 posts in Home Department, 801 posts in Revenue Department, 200 posts in Panchayati Raj Department and 183 posts in Public Works Department.
 Proposal worth Rs 471 crore sent to Centre for purchase of 1123 new buses. Out of these, 800 buses sanctioned.
 Green Card Scheme launched by the State Road Transport Corporation. 30 per cent rebate in bus fare within the distance of 40 to 60 kms. Validity of Smart Card and Yellow Card enhanced form one year to five years.
 Honorarium of Freedom fighters increased form Rs 7500 to Rs 10,000 per month. Honorarium of widows and unmarried daughters of Freedom fighters increased form Rs 3500 to Rs 5,000 per month.
 'War Jagir' amount enhanced from Rs 2000 to Rs 5000 from 1st April, 2013.
Celebrating year in office, Congress is holding a big rally at Hamirpur, a strong bastion of BJP and Dhumal. Elaborate arrangements have been made to make it mega event and it's expected that the Congress workers and leaders would ensure a large gathering at BJP's bastion. General Election 2014 are only few months far now and keeping them in consideration this rally is also important. Congress hasn't win this seat from past 15 years and now Virbhadra Singh and his team will leave not stone unturned to woo voters this time. Independent legislature of Sujanpur Rajinder Rana, who was once considered as a close confident of BJP leader Prem Kumar Dhumal, has already vowed his support to Virbhadra Singh, which can give fair advantage to Congress in the election and with this rally, Singh will also looking to spread the message of development among the masses.
On the other-side, the State BJP has termed the one year of Virbhadra Singh Govt as a big failure. BJP leader Randheer Sharma, in a press conference at Shimla, accused Govt for launching political vendetta against its rivals. He said that Virbhadra Singh Govt has slapped many cases against BJP leader, party workers and their family members. He said the development of the state has come to standstill and have failed to deliver on many front. He claimed that poor are not getting food grains at PDS Shops. He also accused state Govt for misleading people of the state.
Sharma also revealed that BJP is submitting a chargesheet against state government on 25th December. Though, he didn't reveal much about it, but stated that BJP has constituted a committee about month back and on the basis of feedback of its legislature, party workers and panchayats' representatives, charge-sheet has been completed.