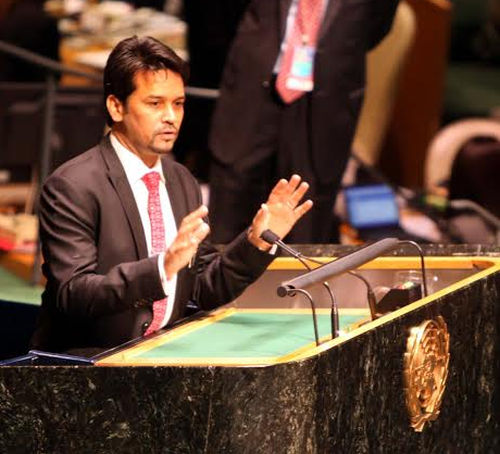 New Delhi: Anurag Thakur, national president, Bhartiya Janta Yuva Morcha (BJYM) and MP, Loksabha has been selected as Young Global Leader-2014 by World Economic Forum (WEF). WEF has recognized his contribution in the field of politics, sports and women empowerment to select him for this coveted honour. Anurag Thakur is the only awardee from South Asia in the category 'political and government'.
The selection committee of YGL-2014 was headed by Queen Rania Al Abdullah of the Hashemite Kingdom of Jordan. Young Global Leaders are selected based on their proven track record of professional accomplishments, breadth of their expertise, commitment to society and their ability to overcome adversity, among other criteria. Every year the World Economic Forum reviews thousands of nominations to find the most accomplished and inspiring young leaders to join the Forum of Young Global Leaders.
As a member of forum of Young Global Leaders, Anurag Thakur will be sharing his experiences around the world on different forums in the coming weeks. Commenting on the honour Anurag Thakur said,
"I'm humbled and honored that a prestigious body like WEF has recognised my contribution in the fields of politics, sports and women's empowerment. I'm indeed grateful to WEF for choosing me as YGL 2014."
Along with Thakur, other Young Global Leaders 2014 from India include noted filmmaker, singer, actor-producer Farhan Akhtar, Wipro's Chief Strategy Officer for IT Business, Rishad Premji, Flipkart.com CEO Sachin Bansal, Tata Starbucks CEO Avani Davda, and HCL's ED & CEO Roshni Nadar Malhotra.
World Economic Forum is an independent international organization committed to improving the state of the world by engaging business, political, academic, and other leaders of society to shape global, regional, and industry agendas and organizes annual summit of top business leaders, international political leaders, selected intellectuals and journalists around the world in Davos, Switzerland.