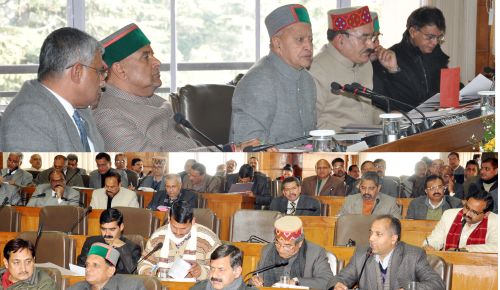 Shimla: Chief Minister Virbhadra Singh said that the State is providing adequate funds for equal and balanced development of the State and to accelerate the pace of development. He informed that the State Government has proposed an Annual Plan of Rs. 4400 crore for the year 2014-15 which is Rs. 300 crore more than the previous Annual Plan. Chief Minister said it in the meeting of MLAs convened for finalizing priorities for Annual Plan 2014-15 here today. MLAs from Solan, Sirmaur, Shimla, Mandi and Bilaspur districts participated in the meeting.
Virbhadra Singh said that to give fillip to the overall development of the State, Government has adopted Manifesto of Congress Party as its Policy Document and efforts have been made to fulfill most of the promises made in the Manifesto in the first year itself. He said that Manifesto is being implemented effectively.
Virbhadra Singh said that priorities of the MLAs are very important in planning process and State Government is giving priority to these so as to provide better facilities and services to the people of the State. He said that Government departments are preparing Detailed Project Reports of various developmental projects and efforts are being made to get them sanctioned from appropriate level at the earliest. He said that Government would try to fund the priorities of the MLAs first from Grant Based Schemes of Government of India. These include Pradhan Mantri Gram Sadak Yojna (PMGSY), CRF, Accelerated Irrigation Benefit Programme (AIBP), National Rural Drinking Water Programme (NRDWP) and Externally Aided Projects etc. He said that those priorities which are not covered under the grants provided by Government of India, would be sent to NABARD for funding through loans.
He directed all Secretaries and Heads of Departments to give due consideration to priorities of MLAs and said that laxity in this regard would not be tolerated. He asked them to solve problems and grievances of public representatives on priority and said that immediate action should be ensured on their suggestions.
Chief Minister said that Himachal Pradesh Government is consistently raising the issue of providing Himachal Pradesh equal share in all centrally sponsored schemes on the analogy of North Eastern States in 90:10 ratio. He had requested the Union Finance Minister to accede to this demand of Himachal Pradesh Government. He asked all Departments to take up the matter of amendment in guidelines of those programmes which are not in the State's interest and all such matters should be raised with the Government of India.
Every MLA has been informed about the status of all those schemes which were given by them under their priorities. He said that functional posts in all departments would be filled up so that detailed project reports of various developmental projects be prepared at the earliest. He asked the concerned officers to expedite the forest clearances cases which were creating hindrance in road construction.
Chief Minister advised the MLAs to provide details of developmental schemes in the meeting and send these to the Planning Department so as to incorporate them in the budget. He requested the MLAs to provide their suggestions on policy matters, financial resources, good governance etc. in the meeting.
Virbhadra Singh said that Government is striving hard to provide people with basic facilities nearer to their door steps and is endeavouring to fill vacant posts especially of doctors, paramedical staff and teachers. He said that connecting villages with roads and bridges is the top priority of the Government and assured that there will be no dearth of funds for the purpose.
Chief Minister said that government educational institutions in the State would be provided with their own buildings in a phased manner. He said that Government was committed for equal development and no discrimination would be made in respect of development of any area of the State.
He said that State's performance in health and investment sectors in past one year was adjudged as the Best and Himachal Pradesh was ranked as Best State in the category of big States in State of States Conclave recently.
Virbhadra Singh said that a project would be prepared to channelize Pabbar river from Sandasali upto Hatkoti on the analogy of Swan River. He said that PWD and Forest Rest Houses at Khadrala are heritage of the State and will be maintained, repaired and renovated. He said that PHC Kupvi would be upgraded to 20 bedded Hospital.
Chief Minister said that stray animals have become a social problem in the State and to check it a micro chip would be fitted in their bodies which would contain all the data of the owner of the animal. He stressed for the need of proper maintenance of all the link roads constructed by other agencies except PWD in the villages. He said that midyear appraisal meeting of Annual Plan would be held to review the progress.
Vidya Stokes, Irrigation and Public Health Minister, Kaul Singh Thakur, Health Minister, Prakash Chaudhary, Excise and Taxation Minister, Dr. (Col.) Dhani Ram Shandil, Social Justice and Empowerment Minister, Anil Sharma Rural Development and Panchayati Raj Minister, Gangu Ram Musafir, Deputy Chairman, State Planning Board, Rajesh Dharmani, Vinay Kumar, Nand Lal, Shri Rohit Thakur, Sohan Lal and Mansa Ram, Chief Parliamentary Secretaries also participated in the meeting and gave their valuable suggestions.