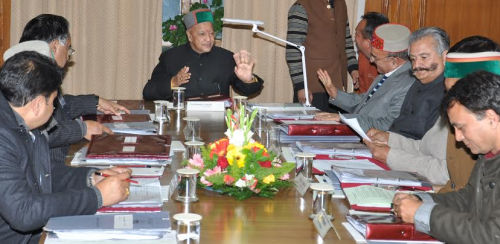 Shimla: The Himachal Pradesh Cabinet which met here today under the Chief Minister Virbhadra Singh approved allotment of 3 biswas of land in rural and 2 biswas of land in urban areas of the State to the houseless persons or families.
The land will be allotted out of the surplus land available in the districts under various schemes and the land available in the government pool will be allotted only by the deputy commissioners under the scheme. All such families whose annual income is up to Rs. 50,000 and who are houseless or those families whose entire land has been washed away in floods and have no suitable land for construction of residential house shall be eligible for allotment of three biswas of land in rural areas and two biswas land in urban areas even if these families are not included in the BPL families list.
The Cabinet gave its nod to opening of new government degree colleges at Nagrota Surian in Kangra district, Rewalsar, Sandhol and Lad Bhadol in Mandi district, Dharamapur and Diggal in Solan district, Sarahan in Sirmaur district and Nankhari and Kumarsain in Shimla district along-with adequate provision of budget and creation of staff.
The Cabinet gave its consent to transfer the recruitment of certain categories of Class-III posts from the purview of the H.P. Subordinate Services Selection Board to H.P Public Service Commission to avoid unnecessary delays and ensure quality recruitments. It includes the recruitment of Post Graduate Teachers (school cadre) in all subjects, Excise & Taxation Inspectors, Cooperative Inspectors, Food & Civil Supplies Inspectors, Police Inspectors, Election Kanungo, Extension Officers (Industries), Inspectors (Weight & Measures).
It granted approval for lease of University land for setting up of Spices Park at KVK Bara, Hamirpur.
It accorded approval for creation of Up-Tehsil at Jol in Una district. The announcement in this regard was made by Chief Minister during his Una visit in May, 2013.
It decided to give ex-post facto approval as one time measure to issue provisional Admit Cards/Roll Numbers to the students of defaulter private Polytechnics. The results will not be declared till the amount of penalty is deposited by these institutions.
It was decided to award the balance work of widening and strengthening of Sarkaghat-Jahu road in favour of M/S. M.G Contractors Private Limited, Panchkula.
The Cabinet approved to amend Rule 67, 68 and 69-A of H.P Motor Vehicle Rules, 1999 to increase/rationalize the application fee, permit fee and composite fee.
The decision was taken to merge few areas of village Jadja with the Nahan Municipal Council for ensuring their proper and planned development and providing better facilities to the residents of these areas.
The Cabinet decided to maintain the status quo on construction activities in 17 green pockets in Shimla planning area. It decided to constitute a committee under the Chairmanship of Urban Development Minister with Principle Secretary, Revenue and Secretary, Urban Development as its members to examine the anomalies in the demarcation of the green pockets. This committee will submit its report in a month time.
It also granted approval for establishment of Government Polytechnic at Chopal in Shimla district.
The approval was accorded to allot 4.40 MW Tindi small hydroelectric project in favour of M/S L&T Development Power Ltd. for meeting the construction power requirements of Reoli Dugli (420MW) HEP.
The approval was granted to Municipal Corporation, Shimla to proceed further with finalization of agency with regard to implementation of e-governance project under JNNURM.
The Cabinet also gave approval for regularization of 21 Nepali workers in HIMUDA in relaxation of educational qualification in the Rule.
It gave approval for creation and filling up of one post of District Attorney in the office of Engineer-in-Chief PWD and one post of Deputy District Attorney in PWD Zone, Hamirpur on secondment basis from Prosecution department.
The Cabinet gave its consent to fill up 40 posts of Steno-Typists in Public Works Department by way of direct recruitment on contract basis.
The nod was also given for filling up 40 posts of Clerk-cum-Data Operators on outsource basis from NIELIT against the vacant posts of clerks for the period of one year. It also approved to fill up 12 posts of Inspectors Grade-I on contract basis through direct recruitment.
The approval was accorded for filling up 3 posts of Assistant Engineer (Electrical) and 20 posts of Junior Engineers (Mechanical) by way of direct recruitment on contract basis in Public Works Department. The 10 posts of Junior Engineers will be filled up by direct recruitment while 10 posts will be filled by batch-wise basis. It was also approved to fill up 20 posts of Assistant Engineers (Civil) through direct recruitment on contract basis in PW Department.
It approved grant of ex-gratia (in lieu of bonus) to the officers/officials of the H.P State Civil Supplies Corporation Ltd. who are drawing salary more than Rs. 10,000/- per month @ 8.33 percent of their total emoluments with maximum limit of Rs. 3500 per annum for the financial year 2011-12.