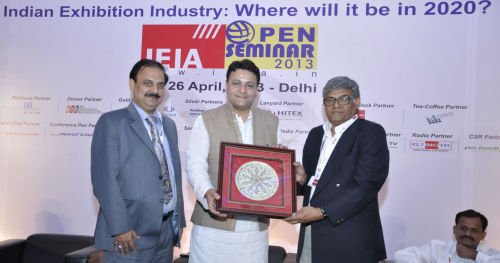 Sudhir Sharma, Urban Development Minister while addressing the two days Open Seminar of Indian Exhibition Industries Association (IEIA) held at Hotel Kempinski Ambience in New Delhi today, lauded the exhibition industry for organising such trade fairs and showcasing development in industrial sector which contributes a lot towards economy of the State. Shri Sharma said that the brainstorming session on various facets of exhibition, concept, organization, operation and management etc. during the seminar would be beneficial for preparation of blue print for future and draw critical analysis as well.
The Minister said that Himachal Pradesh Government was considering for setting up an Exhibition-cum-Convention Centre probably at Dharamshala in Kangra district after identifying suitable land for the same so as to provide facilities to entrepreneurs by way of trade fairs. Besides, State Government was offering incentives to industrialists for setting up eco-friendly units in the State and appropriate proposals for trade facility creation in Dharamshala would be favourably considered. He invited eminent experts associated with such activities to visit Dharamshala and explore possibilities for setting up such type of trade fairs in the State. He assured them full support of Government of Himachal Pradesh.
He said that the Trade fairs in cities of Europe and South East Asia had immensely proved beneficial for socio-economic upliftment of people and local economy as well. The Trade Fairs in such cities were modes of attraction for entrepreneurs and visitors who contributed a lot for boosting hotel and tourism industry. He said that such fairs not only help in generating employment to local youth but also adds to the economy of the area. In Italy, small city Verona holds more than 10 fairs in a year which attracts more than a million visitors thereby generating income for all. Similarly, India can also look ahead to boost economy of its Tier-II cities in different States by organising such fairs he said.