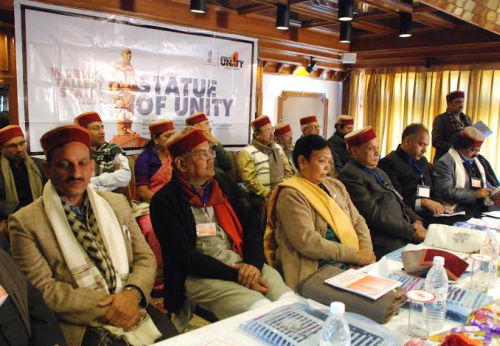 Shimla: A high-level delegation of Gujarat government, who are visiting Himachal Pradesh to elicit the support of Himachal for a project of building the world's tallest 182-meter statue of Sardar Vallabhbhai Patel – Statue of Unity – at Sadhubet, near Sardar Sarovar Dam at the banks of river Narmada in Gujarat, organised a day long workshop at Shimla with a view to give details of the project and various programmes which are to be organized to make people aware about the Statue of Unity project.
Former Chief Minister and leader of opposition Prem Kumar Dhumal lauded the effort of Gujarat Chief Minister Narender Modi and said that the objective behind building Statue of Unity is commendable. Dhumal said
"There is no doubt that this giant statue of Sardar Patel will be instrumental in strengthening the nation's unity and integrity. Participating in this massive task can be considered as a true tribute to Sardar Patel"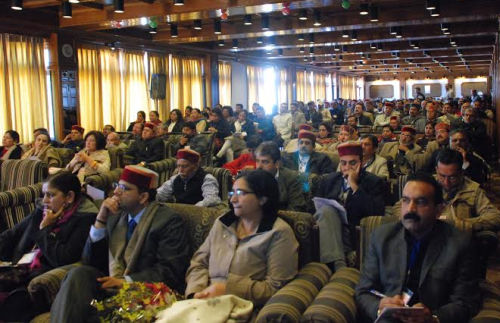 Dhumal assured the help of the people of Himachal and said that the Himachal Pradesh will always be with Gujarat in the Statue of Unity project, and thus in strengthening the nation's unity and integrity.
In her address on the occasion Gujarat Minister of State for Higher Education Prof. Vasuben Trivedi said, "It is not merely a statue but a drive to strengthen the nation's unity and integrity." She appealed participants to support this noble drive led by the Chief Minister Narendra Modi.
She appealed the people of Himachal Pradesh to give a generous support to the Statue of Unity project that it inspires the people of other states too to join the drive with full vigour.
A film on the Statue of Unity project was shown during the workshop. A power point presentation on the project was also displayed.
BJP state President Satpal Sati, MLA Suresh Bhardwaj and visiting dignitaries shared interesting details on Sardar Patel during the workshop. Whip Pankaj Desai, MP Natuji Thakor, MLAs Dr. Nimaben Acharya, Keshaji Chauhan, Jagadish Panchal, Dr. D.T.Maniya, Yogesh Patel, Ajay Choksi, Jamnagar district panchayat president Parsottam Vasoya, Gandhinagar Mayor Mahendrasinh Rana, Jai Ram Thakur, many BJP leaders and workers, representatives from voluntary organizations, community leaders and representatives from farming fraternity also participated in the workshop.