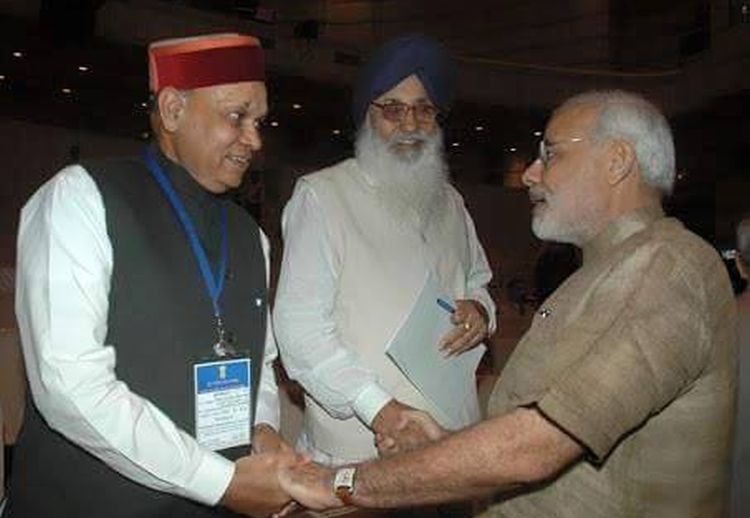 BJP veteran and leader of opposition Prem Kumar Dhumal has sought probe by a Supreme Court judge or the CBI into the assets former Chief Ministers of the state.
Former Chief Minister, in a letter to Prime Minister Narendra Modi, alleged that the Congress, ever since, came into power in the state, leveling false allegations against his family. He claimed that a wrong list of properties has been given to the ADGP (Vigilance), submitted by a Dharamsala-based advocate, without supporting affidavit, and the Chief Minister Virbhadra Singh was using it for unleashing malicious propaganda and interestingly advocate has been appointed as assistant advocate, he further alleged.
Leader of opposition enclosed the complaint filed by a advocate (with the letter) on the basis of Vigilance Bureau conducting the inquiry, and request PM to get the allegations probed after getting an affidavit from the complainant. He categorically made clear that if any property, not mentioned in the income tax returns or election affidavit found might be confiscated and if otherwise action should be taken against the complainant and those prompting to file the false complaint.
Dhumal also sought independent probe into asserts of all former Chief Minister to unearth the truth. He said Himachal had five chief ministers so far and since two of them, Dr Y.S Parmar and Ram Lal Thakur were no more, sought probe into the assets of remaining CMs, Virbhadra Singh, Shanta Kumar and including him.
Prem Kumar Dhumal said that fair probe is necessary to bring the truth to light.