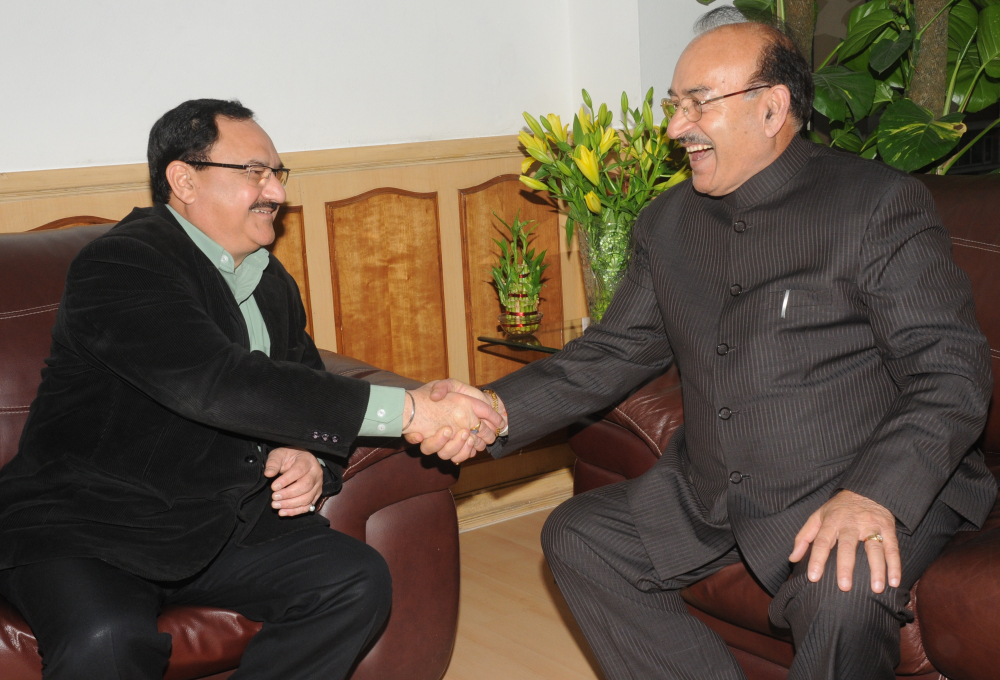 Himachal Pradesh Health Minister Kaul Singh Thakur had raised various issues like direct allocation of funds under National Health Mission, air ambulance services for particular places in the State, opening of cancer, trauma and burn units in various hospitals with Union Health Minister J.P. Nadda at a high level meeting today in New Delhi.
Kaul Singh Thakur apprised Union Health Minister that various central sponsored schemes of health services were being implemented in the State in an effective manner and the people of the State were being benefited by these schemes. He said that 108 ambulance schemes proved to be valuable and useful service but in view of the tough topography of the State, it was the necessity to start air ambulance service in few remote and sensitive places of the State. He also urged to give special relaxation to the State share under this service.
Kaul Singh Thakur also urged to increase the fund allocated under National Health Mission so that it could be implemented effectively in the State. He said the allocated of fund under the Mission should be routed directly and said that the scheme under the programme should be sanctioned for five years so that salary and other fixed expenditure could be completed within a time bound manner.
He also urged the Union Minister to sanction modern trauma centre at IGMC Shimla and trauma centre in Rampur, Dharampur, Mandi, Hamirpur, Chamba and Sundernagar hospitals so that accidental patient could be treated immediately in a better way.
He thanked the Centre Government for allocating funds for setting up of burn units at Medical College Tanda besides Hamirpur and Mandi Hospitals. He also urged to open burn units at IGMC Shimla, Nalagarh hospital and District Hospital Nahan.
Union Health Minister J.P. Nadda assured him for early execution of all these pending demands and directed the higher authorities of the concern ministries to resolve other issues immediately so that health services could be strengthened in the State.