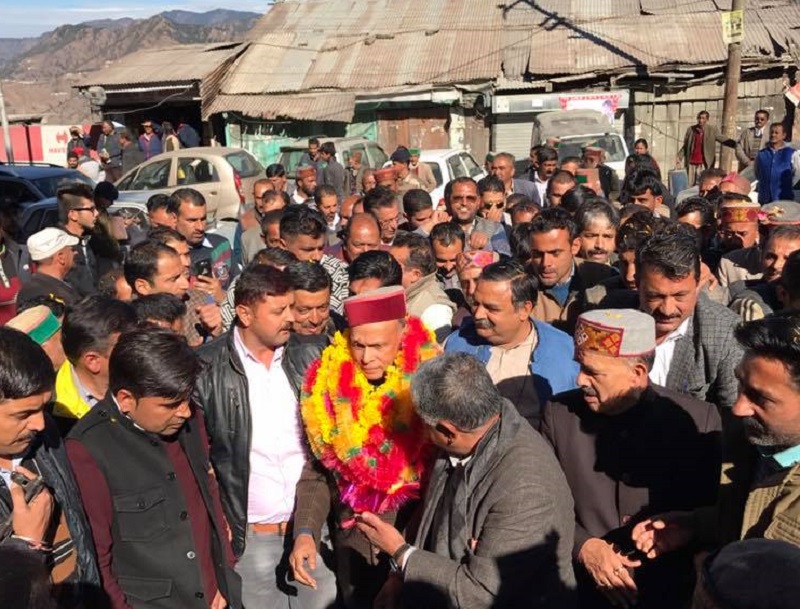 Theog: Veteran BJP leader and Former Chief Minister Prem Kumar Dhumal lambasted at the opposition leaders for opposing the Union Government's decision of demonetisation of Rs. 500 and Rs. 1000 currency notes. He said that Prime Minister Narender Modi has taken courageous decision and everyone should welcome the move wholeheartedly and should stand together to fight the Black money.
Leader of Opposition, in a religious ceremony today, claimed the decision will help to eradicate black money. Criticizing opposition for opposing demonetization, Dhumal said that corrupt and black money hoarder were making hue and cry against the decision. Veteran BJP leader claimed that about 85 percent citizens are supporting the government.
Former Chief Minister gave a clarion call and asked all to support Union Government in fighting the black money. He said that such big decision caused some short term problems, and once it'll over, demonetisation will contribute to transforming the economy in long-term.
The opposition is constantly accusing the Union Government of unleashing financial anarchy, saying people in rural areas and those who were unbanked were distressed as cash had dried up. Opposition accused Government for ill preparing for implementing the decision and now causing the common people problem in daytodays course.
Meanwhile Veteran Congress leader from Himachal Pradesh Virbhadra Singh has welcomed the decision of demonetisation of currency, but advised that Rs. 2000 notes should had been made compatible with ATMs.
He said that black money was a standing blot and should be wiped off completely, but the Union Government should have worked on all ifs and buts before introducing the currency besides other technicalities which were now posing problems to the people.