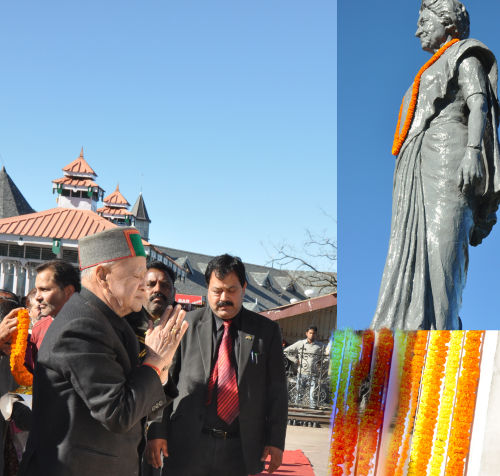 Chief Minister Virbhadra Singh assured filling up all vacant posts in Community Health Centre Bangana and to provide additional finances for ITI Bangana. He was addressing a gathering at Bangana in district Una today.
He said that the State Government was committed for welfare of its people especially weaker sections of the society and for uniform, balanced and speedy development of the State. He said that adequate budgetary provisions had been made to give fillip to developmental activities and provide all basic facilities to the people at their door steps.
The Chief Minister announced opening of Community Health Centre at Raipur Maidan and announced upgradation of Middle School Kodra, High School Rensari and Charola. He also announced upgradation of High School Talai to Sr. Secondary School and for starting Commerce classes in Senior Secondary School, Budhan. He sanctioned setting up of 25 hand pumps in Kutlehar Vidhan Sabha Constituency.
Virbhadra Singh announced rupees six lacs for connecting Bhuhana Harijan Basti with road facility. Besides he announced metalling of Nangal-Salagri road and to name it after Martyr Surinder Singh. He also announced financial assistance of Rs. 75,000 for Pawan Kumar of Jawalapur for treatment of his daughter Shruti Dhiman.
The Chief Minister said that Sports Act was enacted during his previous tenure to ensure free and fair working of the sports bodies and transparency in elections. He said that previous Governments repealed the sports act to benefit certain vested interests. He said that he was not against any particular sports body or organization but simply want that democratically elected persons should run the same and the players from our State should be given fair chance to play and be a part of sports organization and these should not be monopolized.
Earlier, Chief Minister inaugurated the 2nd phase of District Ayurvedic Hospital Una constructed at a cost of Rs. 1.94 crore. He also performed foundation stone laying ceremony of Office Building of Superintending Engineer, IPH, 15th Circle at Bharolian Kalan in Rakkar to be constructed at a cost of Rs. 2.42 crore. He also inaugurated Rs. 5.80 crore synthetic Astro Turf Hockey field at Una and laid foundation stone of Rs. 1.68 crore Punjab National Bank's Self Employment Training institute. He also laid foundation stone of residential accommodation for doctors of Regional Hospital Una to be constructed by an estimated cost of Rs. 1.16 crore.
Chief Minister also laid a foundation stone of Dhundala Lift Drinking Water Supply Scheme, which will facilitate 15,500 people of 63 villages. He also laid foundation stone of Primary Health Centre at Lathiani to be constructed with an outlay of 1.83 crore and also laid foundation stone of Main Gate of Radha Krishana Temple at Kotla Kalan.
Chief Minister during his two days visit to Una district inaugurated and laid foundation stones of development projects of around Rs. 38 crores.
Vidya Stokes, Irrigation & Public Health Minister said that State Government was committed for overall development of the State and has taken many decisions during past ten months for the well being of all sections of society. She said that Chief Minister has given biggest Swan Channelization Scheme of Rs. 922 crores for the Una district, which would become first district of the Country who is our tributary would be channelized. She said that 4972 hectare land would again re-acclaim through this scheme and it would benefit 2.35 lac people of 165 villages of the district. She said that work on 39 irrigation schemes was under progress and Rs. 78.64 crores would be spent on it.
Mukesh Agnihotri, Industries and Information & Public Relations Minister said that Chief Minister has laid foundation stones and inaugurated crores of rupees new schemes during his two days tour of Una district. He said that Chief Minister Virbhadra Singh had given special attention to the development of Una district and had initiated big schemes in the district.
Kuldeep Kumar, Chairman, 4th Finance Commission, Virender Dharmani, President, District Congress Committee, Ram Dass Malangarh, Ravinder Fauji, Chairman, Block Congress Committee Kutlehar, Jagdish Sipahiya, Chairman, KCC Bank, Ram Nath Sharma and, Onkar Sharma, Ex-Vice Chairman of Agro Packaging, Avinash Kapila, Ex Chairman, DCC Una, DC Una, Abhishek Jain, SP, Anupam Sharma and other prominent persons of the town were present on the occasion.