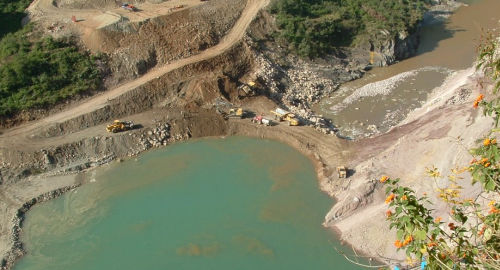 As water is a basic human need it must be managed in the most optimal manner so that consumption and development needs are met. The State Government is committed to provide adequate and safe drinking water to every household besides extending irrigation facilities to the farmers in the State. It is implementing various irrigational projects to give impetus to the agrarian revolution, which will usher a new era in progress and prosperity in the State.
Water being a scarce and precious resource, its use has to be planned accordingly along with conservation and management measures. It requires an integrated and environmentally sound technique, keeping in view the socio-economic needs of the State.
As per the latest census, over 90 percent population of the state has been covered with piped drinking water supply, which is highest amongst all the States.
Out of 53201 habitations, 44254 habitations have been provided drinking water supply facility at the rate of 70 Litres per Capita per Day (LPCD). Efforts were being made to provide 70 LPCD to additional 2500 habitations during 2013-14. As many as 2000 hand pumps are being installed in the areas facing water scarcity. The Government is committed to provide potable water facility to all the habitations by 2017.
There is also a proposal for lift water supply scheme to Shimla town from Kol dam reservoir which will ensure adequate drinking water supply to residents of the area. It will cater to the needs of around eight lakh population till the year 2047. This ambitious project will be constructed at an estimated cost of Rs. 515.89 crore with proposed capacity of 68.84 MLD.
The Government is preparing a Five Year Action Plan to increase the net irrigated area to atleast 50% of the net sown area so that farmers can get assured crop and livelihood from agriculture.
Priority will be given for development of command area to ensure that irrigation potential created converts into real benefits to the farmers. A budget outlay of Rs. 20 crore had been made for command area development which will be increased as per the actual demand. An outlay of 138 crore has been made for minor irrigation projects during 2013-14, with a target to cover around 3000 hectares. Besides, 1500 hectares land will be covered under major and medium irrigation projects.
Ambitious major Shahnahar irrigation project and Sidhata medium project in district Kangra would be completed during this year. A provision of Rs. 55 crore have been made in this fiscal for Phina Singh medium irrigation project in Nurpur tehsil of Kangra district whereas Rs. 35 crore would be spent on Nadaun medium irrigation project. Directions have been given to prepare detailed project report for construction of Salli to Darni Rirkumar, Hathor kuhl in district Kangra for irrigation purposes.
Channelization of Beas river will be carried out on priority for which model study was being conducted through CWPRS, Pune. Detailed Project Report (DPR) for channelization of Chhonchh Khad in Tehsil Indora, District Kangra costing Rs 179.59 Crore approved by Advisory Committee, Ministry of Water Resources, Government on India. The total benefited area is 1740.30 hectares out of which 1381.75 hectares is agriculture area. Work on stabilization of Seer Khad, Jahu to Bum costing Rs. 23.17 Crore and Channelization of tributaries of Bata River (Sunker) in Sirmour District costing Rs. 14.37 Crore is in progress.
Chief Minister had recently laid foundation stone of ambitious project of channelization of all streams of Swan river from Santokhgarh bridge to Daulatpur bridge and channelization of Swan river from Daulatpur bridge upto Gagret bridge under Rs. 922.49 crore Swan River Flood Management Project at Kangad in Haroli constituency of Una district. Under the 4th phase of this project total 11 kilometers long area of Swan river from Daulatpur bridge to Gagret bridge will be channelized under the project besides channelization of all 73 tributaries of Swan from Daulatpur to Santokhgarh bridge. State Government put sincere efforts to get clearance for the project in a record nine months period from Government of India (GoI). The project will benefit a population of 2,35,834 of 165 village and 7163.40 hectare barren land to be reclaimed. In all 387.58 kilometers area will be channelized including 1200 kilometer watershed area.
Stress is being laid for constructing water hartvesting structures and management and conservation of natural resources to ensure long term sustainability. Around 331 water harvesting structures has been completed at a cost of Rs. 16.16 crore with storage capacity of 2.29 cubic meters and work on 291 structures for creating 22.73 lakh cubic meter capacity is in progress. Master plan is to be prepared for water conservation which will be amalgamated with agriculture, horticulture and pisciculture departments.