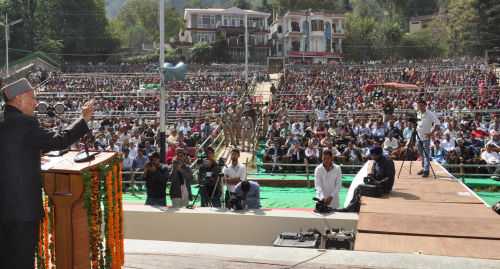 Chief Minister Virbhadra Singh that State Government was committed to uphold the sanctity of deities and providing more facilities for organizing fairs and festivals in attractive and effective manner in the State.
Virbhadra Singh was today addressing the closing ceremony of International Kullu Dussehra Festival at Lal Chand Prarthi Kala Kendra in Kullu. He said that it was due to the participation of local deities that Kullu Dussehra attained the status of International festival and it was a rare occasion for the devotees to seek blessings of hundreds of deities at one place. He said that sanctity of the deities would be maintained at every cost and deities existing for more than 50 years would be invited to the Dussehra festival. He said the practice to collect money on the name of local deities by carrying the palanquin of deities was lowering the dignity of deities which should be checked.
Chief Minister announced 10 percent increase in the Nazarana of deities participating in the Dussehra festival. He said last year Rs. 39.29 lakh were given as Najarana and with 10 percent increase, Rs. 3.63 lakh more would be given this year. Besides, Banjatries of deities would get Rs. 10,000 per deity while non-Muafidar Banjatries would get Rs. 5,000 per deity as special financial assistance which was 59 percent more than last year.
He said that keeping in view its historical importance and unique traditions, the State Government had accorded the status of International Festival to Kullu Dussehra. He complimented the Festival Organising Committee, district administration, Nagar Parishad and the local people for successfully organizing Dussehra festival with peace, gaiety and fervor. He said that cultural troupes from various countries participated this year in the festival and efforts would be made to invite more cultural troupes in coming years to add more colours and attractions to the festival.
Chief Minister said that State Government was committed to preserve and promote the rich culture of the State and it was during his tenure as Chief Minister that Kala Kendra was constructed at named as Lal Chand Prarthi Kala Kendra at Dhalpur gound. The 'Dev Sadan' was also constructed bythe State government for the 'Kardars' of deities who visit Kullu during Dussehra festival every year. He said that minimum charges would be taken from the 'Kardars' for staying in the 'Dev Sadan' and preference would be given to 'Kardars' in providing rooms.
Virbhadra Singh said that State Government had adopted zero tolerance policy towards corruption and anybody found guilty would not be spared howsoever influential he might be. He said that there was no personal enmity with anybody and law would take its own course adding that any matter pertaining to corruption would be thoroughly investigated without any favour or prejudice. He said that he was falsely implicated twice by the previous government but he fought his case in the Court of Law and was exonerated by all the charges.
Earlier, while speaking at centenary celebration function of GSSS Raison, the Chief Minister said that State Government has accorded top most priority to the education and there would be no paucity of funds. He said that during his earlier term as Chief Minister, Primary Schools were opened in large number so that small children did not have to walk more than 1 ½ – 2 kilometers distance. He announced new block for GSSS Raison as centenary celebration gift and Rs. 25,000 for promoting cultural activities.
Later, Chief Minister inaugurated Government College, Haripur (Manali) constructed at a cost of Rs. 8.75 crore and announced to name it as Pandit Jawaharlal Nehru College, Haripur. He said that Pandit Nehru had special love for Kullu-Manali and he also visited this place.
He also that 17-mile bridge would be broadened for plying of buses. He also announced mettling of left bank road and starting of Science classes in Haripur college from next academic session.
He also inaugurated SUGAM centre at DC Office Kullu which would provide various computerized facilities to the people under one roof. He said that Himachal Pradesh had taken long strides in computerization and efforts were being made to bring these services upto gram Panchayat level.
Chief Minister released a souvenir of Kullu Dussehra and two books of Dr. Dayanand Gautam of Government College, Kullu. He also honoured Shri Vidya Sagar, Rajender Kumar Sharma and Surender Mehta for their services in their respective fields.
MP Pratibha Singh expressed happiness for organizing Kullu Dussehra very well and inviting more foreign troupes this year. She said that Central Government headed by Prime Minister Dr. Manmohan Singh had started many ambitious schemes aiming at the welfare poor and rural people. She said that MNREGA, NRHM, RTI and now the Food Security Act aimed at benefiting poor and down trodden. She said that subsidized food scheme was started by Chief Minister Virbhadra Singh during his previous tenure under which apart from wheat flour, rice, pulses, edible oil and sugar was being given to the each ration card holders.
MLAs Maheshwar Singh, Gobind Singh Thakur, Karan Singh and Khoob Ram, District Congress Committee President Budhi Singh Thakur and Chairman, Zila Parishad Kullu Hari Chand Sharma also spoke on the occasion.
Deputy Commissioner-cum-Chairman, Kullu Dussehra Committee Rakesh Kanwar welcomed the Chief Minister and said that efforts were made to improve the standards of the Dussehra and maintain cleanliness and law and order.
Chairman, Kangra Central Cooperative Bank Jagdish Sipahiya, former Minister Satya Prakash Thakur, Chairperson, State Women Commission Dhaneshwari Thakur, General Secretary, PCC Shri Sunder Thakur, Spokesman, PCC Bhuneshwar Gaur, Chairman, Manali Vikas Manch Dharamvir Dhami, Vice Chaimran, Nagar Parishad Kullu Manu Sharma,Advisor to Chief Minister T.G. Negi, OSD to Chief Minister Amitpal Singh, Rajender Singh, Director, Information and Public Relations, S.P. Vinod Kumar Dhawan, prominent persons and senior officers were present on the occasion.