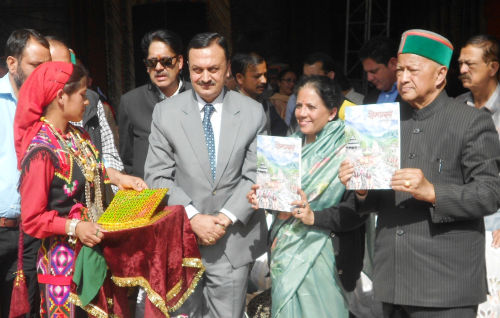 Chief Minister Virbhadra Singh released the special issue of Himprastha magazine of Information and Public Relations Department on the occasion of closing ceremony of Kullu Dussehra festival at Kullu. This special issue of Himprastha magazine has been dedicated to Kullu district.
Chief Minister congratulated the Director, Information and Public Relations and Chief Editor of the magazine Rajender Singh and staff members of the department for publishing special issue of the magazine on Kullu district. He said Himprastha was being published regularly since year 1955 and it had been highlighting various aspects of the life styles, culture and art of Himachal Pradesh besides providing a platform to the litteratuers and writers of the State.
He said that special issue of Himprastha would provide useful information about Kullu district adding that the department should carry on with such endeavours.
Virbhadra Singh said that Himprastha magazine played a significant role in fulfilling the culture, folk literature and development related aspirations of this hilly State by providing valuable information to the readers at the time when the State was too far behind in the field of journalism.