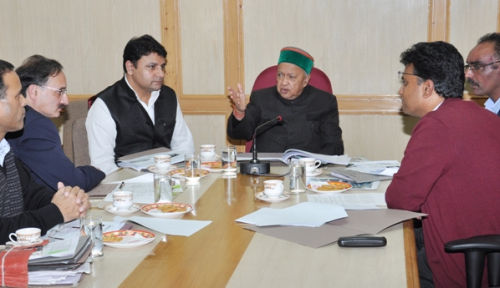 In a review meeting of Parkings and Comprehensive Mobility Plan of Shimla town here, today, Chief Minister Virbhadra Singh has stressed the need to develop new parkings in Shimla town to meet out the ever growing need of adequate space for parking for both local people and tourists.
Virbhadra Singh said four parking slots were being constructed in Shimla at Sanjauli for 400 vehicles, at Chhota Shimla for 250 vehicles, at Lift for 700 vehicles and at Vikas Nagar for 175 vehicles. He directed to complete the construction at the earliest to solve the problem of idle road side parking in Shimla town. He said that two floors of Sanjauli parking would be completed by January next while Chhota Shimla car parking would be completed within a year. He also directed the concerned officers to fix the time limit for the completion of other two under construction parkings.
Chief Minister said that Municipal Corporation (MC) Shimla had identified 71 sites for parkings of over 5000 vehicles which would be constructed under Public Private Partnership (PPP) Mode though Himachal Pradesh Infrastructure Development Board. The parking facility for 350 vehicles would be developed at new OPD Block of IGMC which would be exclusively for IGMC.
Virbhadra Singh said that Shimla MC had 35.34 square kms area with approximate population of two lakh with 75,000 floating population. There were 55,000 registered vehicles in Shimla and there were 1769 on street parking space (yellow marking) and 512 off street parking space. In Shimla town four-wheelers constitute 48 percent; two wheelers constitute 18 percent whereas public transport accounts only two per cent of total registered vehicles and contribute 49 per cent of total trips while walk trips share was 42 per cent.
Virbhadra Singh said that a Comprehensive Mobility Plan (CMP) had been prepared by MC Shimla to address traffic growth of all modes of transportation which was in synchronization with city development plan. It had detailed strategies and action for achieving the objectives for sustainable multi-model transport system for the city. He said that CMP focuses on mobility of the people rather than vehicles by prioritizing public transport and non-motorized transport as per the objective of the National Urban Transport Policy-2006.
Chief Minister said that Personal Rapid Transit (PRT) pods would be set up in Shimla town to decongest heavy traffic. It would be set up on Circular Road with approximate cost of Rs. 750 crores on Design Built and Operate Transfer (DBOT) basis to avoid the traffic congestion.
He directed the MC Authority to associate the services of an expert conservation Architect Ved Segan for the renovation of Shimla MC building. Segan had given a new life to historic building of Gaiety Theatre Shimla without altering old structure and style. He also directed to start the renovation work at earliest and shift to vacated complex of District Session Judge Shimla. He said that the space below ridge road adjoing MC building should be used for the construction of more rooms and hall etc on the analogy of Gaiety Theatre with using natural light towards Ice Skating Rink side.
Urban Development Minister Sudhir Sharma said that there was urgent need to identify new parking places in Shimla town keeping in view the increase in private vehicles and tourist influx. He said being a hilly town there was natural constraint together with shortage of off-street parking facilities. He said that more parking spaces should be marked with yellow line in the city and MC Shimla should charge nominal parking fees for these spots.
Principal Secretary Town Country Planning & Urban Development K. Sanjay Murthy, DC Shimla Dinesh Malhotra, E-n-C (PWD) Pradeep Chauhan, Commissioner MC Shimla Amarjeet Singh and other officers were present on the occasion.