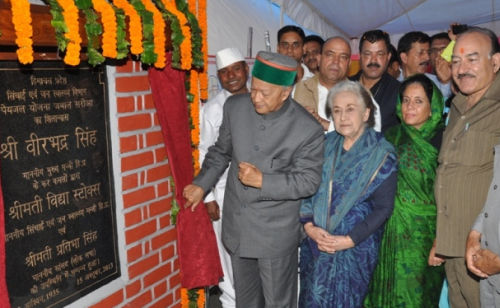 Chief Minister Virbhadra Singh laid foundation stone of Lift Water Supply Scheme (LWSS) of village Jabal, Saroa, Kutachi and adjoining villages in Gram Panchayat Shalla, Noun and Chhamyar to be constructed at a cost of Rs. 3.71 crore benefiting about 4000 people. He also laid foundation stone of LWSS of Movi Seri and adjoining village in tehsil Chachiot in district Mandi to be constructed at a cost of Rs. 3.72 crore benefiting about 3600 people of seven villages.
Chief Minister also inaugurated the new office building of HPPWD Executive Engineer, Gohar constructed at a cost of Rs. 80.50 lakh. He also inaugurated Police Station building Gohar constructed at a cost of Rs. 1.12 crore and Science Lab. of Government Senior Secondary School building at Gohar constructed at a cost of Rs. 73.12 lakh.
Later, speaking on a public meeting at Gohar, Chief Minister said that 20 bedded CHC Gohar would be upgraded to 50 bedded hospital. He said that State Government was committed for speedy and all-round development of all areas of the State without any discrimination. He said that Himachal Pradesh had made tremendous progress in all fields and there was no limit for the development. He said that Congress Government was committed for unity and diversity of the country but it was unfortunate that certain political parties propagate caste, creed and religion issues to gain political mileage. He said that Central Government had always fought against such divisive forces and would continue to do so in future with all vigour.
Virbhadra Singh said that Ram temple construction issue was being raised keeping in view of Lok Sabha elections by BJP but the people would not fall prey of their nefarious designs. He said that Modi had visited Himachal Pradesh twice during the Vidhan Sabha elections when he was incharge of State BJP and Chief Minister of Gujarat but both times Congress had won the elections impressively. He said that UPA Government had launched many ambitious schemes during last nine years besides RTI Act, Land Acquisition Bill & Food Security Act which would ensure food to all people of the country at very affordable rates. He said that subsidized ration scheme was started in the State during his previous regime under which three pulses, wheat, flour, rice and two kg edible oil and one kg salt and sugar were being provided to the people and this scheme would be continued for APL families also. Strict action would be taken against the depot holders if any irregularity was committed for providing subsidized ration to the consumers, he added.
Chief Minister said that every depot holder would be provided a specific number and he had to display the rate list at the counter of the depot and if a consumer could not get ration or any item in a particular month, he would get the same in the next month. He said that Government has to raise the bus fare due to irregularities committed by the previous Government and HRTC was suffering huge losses.
Virbhadra Singh said that irregularities had also been committed in construction of various bus stands including the Mandi Bus Stand where Rs. 20 crore were spent but adequate space was not created besides other civic amenities. He said that the buses which were rejected by ITBP were purchased by previous Government and even their colour was also not charged. Chief Minister also launched the sweets made by Milk Fed on the occasion.
Kaul Singh Thakur, Health and Family Welfare Minister said that 200 doctors would be recruited during two years out of which 100 would be appointed during current financial year. He said that the State Government was committed to provide better health services to the people and Government had launched many schemes in health sector including Solid Bano India, 60 new ambulances under National Ambulance Scheme and online drug licensing system was also launched.
Pratibha Singh, Member of Parliament said that she had raised many issues of the State interest in Lok Sabha. She said that IIT at Kamand, ESI Medical College at Ner Chowk in Mandi district, Central University in Kangra district and NIFT were sanctioned by the UPA Government. She thanked the voters of Mandi Parliamentary Constituency to give her huge mandate during the Lok Sabha by-elections.
Vidya Stokes, Irrigation and Public Health Minister and Prakash Chaudhary, Excise and Taxation Minister were also present during the inauguration and foundation stone laying ceremonies.
Chet Ram Thakur, Chairman, Milk Federation said that federation was collecting about one lakh litres milk every day from the farmers and target has been fixed to double it in near future.
Amritpal, Pradhan Gram Panchayat Gohar welcomed the Chief Minister. T.G. Negi, Advisor to the Chief Minister, Amit Pal Singh, OSD to Chief Minister, P.L. Thakur, IG, Mandi, Devesh Kumar, Deputy Commissioner and R.S. Negi, Superintendent of Police, other senior officers and prominent persons were also present on the occasion.