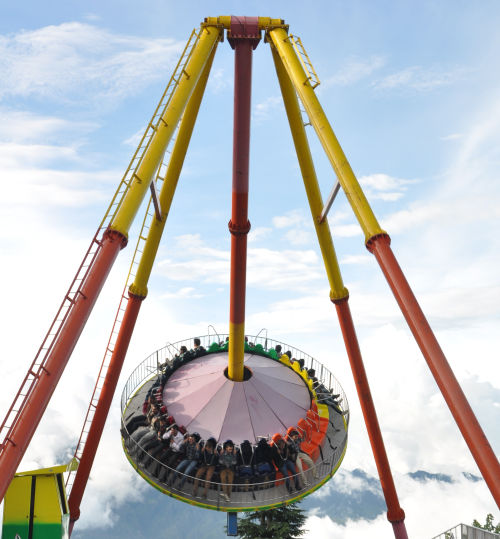 The famous tourist destination of Kufri will now have an added attraction with the opening of an amusement park having facilities for adventure sports. It will be opened on 'World Tourism Day' on 27th September.
Chief Executive Officer, Kufri Fun Campus, Baldev Thakur, said that the idea of opening an amusement park was evolved is aimed at sustaining the visit of tourists and also provide the locals and tourists a place for recreation amidst the serene natural surrounding in Kufri.
Fun Campus, spread over 35 bigha, offers around 30 activities, including karting, adventure sports, indoor games, sky swinger (32 metres height), haunted house, 5-D theatre, frish bee ride, bungy ejection for adults, bungy trampoline, swing it ride, wave train for kids, mini skater, kangaroo jump, moon walker and striking car, etc.
Once Kufri was know for its scenic beauty and was notable for films shooting as well, but poor destination managements, no activities for tourists and lack of constructive initiatives from state government and state tourism department, tourists are refraining from visiting Kufri. Thakur believes that there are lots of opportunities in Kufri and Kufri Fun Campus will not only help to retain tourists, but it'll attract new and fun loving locals to this place. He said that Kufri Fun Campus will also generate needed employment for local people and will also promote local culture, cuisine and winter sports at Kufri.
However, Kufri Fun Campus has also expansion plans and mulling to add unique helicopter services for local sightseeing in the future, which will be first of its kind and will help to explore many little known, but enchanting sight scenes of the region. It's also mulling to construct a luxurious hotel.