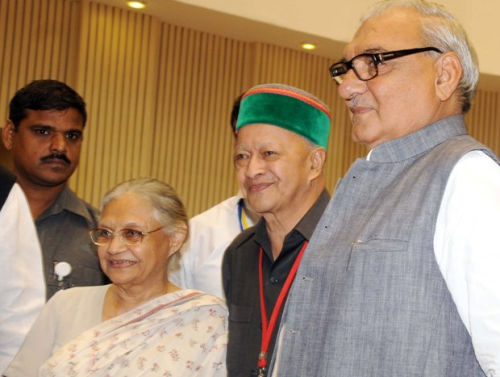 Chief Minister Virbhadra Singh has advocated the use of modern technology to educate and motivate the youth for undertaking constructive activities and wean away them from falling in the hands of communal forces so as to strengthen the national unity and integrity.
While speaking in National Integration Council meeting in vigyan bhawan, New Delhi today, Chief Minister emphasised the need to protect and preserve the pluralist tradition and multicultural fabric of the society by actively countering the dangerous attempts to communalize the society and polity. He said that communalization of national institutions like education, history and polity should be stopped immediately and asked for stringent action against all those who incite and indulge in fissiparous acts.
He said that law enforcement agencies should focus more on sensitizing and motivating police forces to take effective and prompt action to prevent and contain communal violence. He said there should be optimum use of natural resources to raise the social and economic standards of the people.
Virbhadra Singh said that certain selfish forces had been fuelling disharmony and conflicts by spreading fear, suspicion and hatred. Effective steps had to be taken to tackle anti-national forces jointly and earnestly. The societies, individuals and specially youth must rise above self and contribute to nation building.
Virbhadra Singh said that Himachal Pradesh was most peaceful State with absolute communal harmony. The State Government had issued necessary instructions to the law enforcing agencies and special cells under the supervision of Deputy Superintendent of Police (Hqrs.) had been constituted at the Districts to deal with First Information Reports (FIRs) relating to matters arising out of communal problems. FIRs lodged by any community on the basis of religion are treated as Special Reported Case and information in this regard is invariably communicated to the State Government immediately and necessary action is initiated at once.
He said that safety and security of women had been given prime importance by state government which was being ensured through a multipronged strategy. Emphasis had been laid on recruitment of women in Police Force and about 20% posts up to the level of Sub-Inspector of police had been reserved for women. Various institutional mechanisms such as State Women Commission, Help Line for women, Complaints Committees for preventing sexual harassment of women at work places, Mahila Kalyan Board had been set up in the state and 50% reservation has been given to women in all PRIs / Urban Local Bodies. He said that various legislations such as Protection of women from Domestic Violence Act, 2005, Dowry Prohibition Act, 1961, Immoral Traffic (Prevention) Act, 1961, Protection of Children from Sexual Offences Act-2012, Child Marriage Prohibition Act, 2006, PC & PNDT Act, 1994, HP Registration of Marriages Act, 1996, were being implemented strictly in the state.
Chief Minister said that the State government had constituted various welfare boards for Scheduled Castes, Scheduled Tribes, Labana, Kabeerpanthi, OBC, Minorities and the Gorkhas to ensure that the benefits of various programmes of the Central and State Government reach these communities.
He said that the state Government was committed for the uniform socio-economic development, empowerment and social inclusion of the vulnerable sections and Minorities and added that various Central legislations like the Protection of Civil Rights Act 1955, the Scheduled Castes/Scheduled Tribes (Prevention of Atrocities) Act 1989 and Rules 1995 were being strictly implemented in the state.
Virbhadra Singh said that State Government had started various schemes in the field of health, nutrition, education for empowerment of women including Mukhya Mantri Bal Udhar Yajana, Mukhya Mantri Kanya Daan Yojana, Mother Teresa Matri Asahaya Sambal Yojana , Widow Re-marriage Assistance, Assistance for self-employment, Vishesh Mahila Uthan Yojana, Financial Assistance & Support Services for victims of rape, Working Women's Hostels, free education for girls, separate toilets for girls in schools, formation and promotion of Self Help Groups of women, etc. In addition Centrally Sponsored Schemes like Indira Gandhi Matritva Sahyog Yojana, Rajiv Gandhi Scheme for Empowerment of Adolescent girls (SABLA), Krishi Shakti Yojna, MNREGA, SSA/RMSA etc. were also being implemented effectively by the State.
Chief Minister said that status of women in the State had shown positive trends in key parameters. Over all sex ratio has improved from 968 in 2001 to 974 in 2011. Similarly, Female literacy had increased from 65% in 2001 to 76% in 2011. He said that 9% of the State Annual Plan had been earmarked for the Tribal Sub Plan for the development of Scheduled Tribes, H.P. Transfer of Land (Regulations) Act, 1968 was being implemented strictly for prevention of land Alienation in Scheduled Area.
He said that State Government had earmarked 24.72% of the State Annual Plan for the Scheduled Caste Sub-Plan and many scheme had been initiated for the overall development of weaker sections of the society including award for Inter-Caste Marriage, Social Security Pension, Housing Subsidy, Follow-up Programme, Hostels For SC,OBCs Girls/Boys, Schemes of Scholarships for SCs/OBC and Minorities, Pradhan Mantri Adarsh Gram Yojana, Mukhyamantri Adarsh Gram Yojana, Training & Proficiency in Computer Application and allied activities, Compensation to the victims of Atrocities, Grant-in-aid to NGOs working in the field of SCs, OBCs & Minorities.
He stressed the need to pay greater attention to understanding the aspirations of the people and frame policies that will help achieve them.