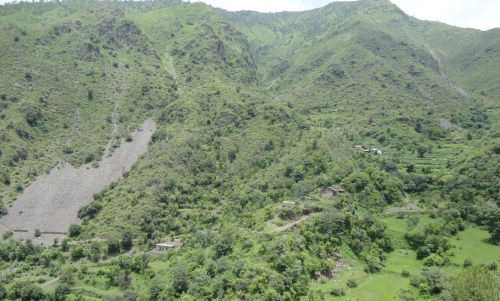 The fragile Himalayan ecosystem is a rich repository of biodiversity. The successive State Governments are making concerted efforts for sustainable management of natural resources and a decision has been taken to conduct massive afforestation drives by planting medicinal and broad leave plants which could serve the purpose of Food, Fodder and Fuel for the habitants of the area thereby ensuring equilibrium between man and the nature.
With the assistance of various agencies many schemes in this sector are being implemented by the Government. Afforestation works in the State began from the first five year plan and are continuing till date. About 10385 Square kilometres area has been covered through plantation activity.
Afforestation is being carried out on 16000 hectares/annum on forest land with a norm of 1100 plants per hectare. A target has been fixed to afforest 80,000 hectares of land during the 12th Five Year Plan depending upon the allocation of funds which will include Nursery Raising, Assisted Natural regeneration and Artificial Regeneration.
Further, a Working Group Committee has been constituted to recommend strategies for the 12th Plan to increase, conserve and protect forest wealth. Besides, an area of 10385 Sq Kms has been covered through plantation activity till 2011-12. Apart from this approximately 3000 hectares of forest area is treated for soil and water conservation under various State Plan Schemes. There is a provision to treat 15000 hectares of forest land during next five years plan. As per the forest Survey of India Report, 2011, the state has an area of 3,224 sq. Kms under very dense forests, 6,381 sq Kms under moderately dense forests and 5,074 sq Kms under open forests which comes to 14,679 sq kilometres as total area covered under forest as of now.
Foreseeing the peril being caused to cultivable land and forest areas due to Lantana, an weed, particularly in the lower belts of Himachal Pradesh, the Forest Department, has decided to do away with the problem by resorting to planting fruit bearing and other eco-friendly species of plants on 5000 hectare of land being infested by Lantana.
Not only the Department has geared itself for treating this weed under Compensatory Afforestation Fund Management and Planning Authority of India (CAMPA), Green India Mission Fund of Government of India and partially under MNREGA funds but also Participatory Forest Management Committees comprising of the local population are being involved to control the spread of Lantana. The present Government is stressing on awareness of the people on environmental services of the forests. Moreover, a target has been fixed to bring 20000 hectare of uncultivable land under afforestation.
As fire incidents are a regular feature in Chil Pine areas of the State, the work on maintaining 1000 kilometre old fire line is in progress and so far 60 percent of target has been achieved in this direction. The government has decided to fill as many as 205 posts of forest Guards to conserve & protect the forest wealth of the State and a provision of rupees 422 crore has been made for the year 2013-14 for the forest department out of which rupees 132.32 crore has been earmarked for conservation of forests and wild life which is five crore more than the previous year's allocation.
Apart from this, the State Government has targeted to bring 2000 hectare of non agricultural land under forest cover by planting medicinal and Broad leave plants. Besides, more than 31 thousand of such species had been planted lately thereby achieving 70 percent of given target in this financial year. The forest department has decided to plant 45 lakhs medicinal plants throughout the State during this financial year by spending Rs. 10 crore. The forest department has formulated a policy for Training and Capacity Building, to introduce bio-engineering measures in catchment areas, to involve private sector in afforestation, re-afforestation of scrub areas etc.
The Government has adopted the guidelines of New State Forest Policy-2005 to conserve the forest wealth of the State. The objective for 12th five year plan, 2012-17 is to increase the forest cover and compensatory afforestation and plantation through participation of local people based on Strengths, Weaknesses, Opportunities and Threats (SWOT) analysis, to assess the strengths and weakness of this vital sector. It clearly defines the strategies to tackle the problems arising in this sector, which has been made the base to eradicate the wild species, as Lantana.
Due to concerted efforts of Forest Department in the direction of Afforestation, the State has witnessed enhancement in forest cover from 11780 Sq. Kms in 1991 to 14679 Kms in 2011, thus resulting in an increase of 2899 square Kms forest cover in the State. As per forest survey of India report an increase of 11 square kilometres has been noticed since 2009.