The status of deteriorating environmental and law and order condition in the tourist spot Kufri in Shimla district has reached an alarming level. A couple of months ago, Shimla district administration had announced installation of CCTV cameras after repeated complaints of misbehave with tourist and bullying by horse providers.
"To keep vigil on all activities, we have already installed four CCTV cameras there and also hiked the total fees for horse owners from 50,000 to 1 lakh to ensure cleanliness," had said the DC Shimla in his statement.
Reports of encroachment on forest land by private fun-park had also appeared in media.
Now, a petitioner has dragged some higher officials of district administration into the court by writing a letter to the Chief Justice of Himachal Pradesh High Court regarding their inaction.
Taking a note of such this critical issue, a Division Bench comprising Chief Justice Mansoor Ahmad Mir and Justice Tarlok Singh Chauhan has summoned the Chief Secretary, Secretary (Home), Deputy Commissioner and SP Shimla and Divisional Forest Officers, Shimla asking them to remain present in the court on December 19.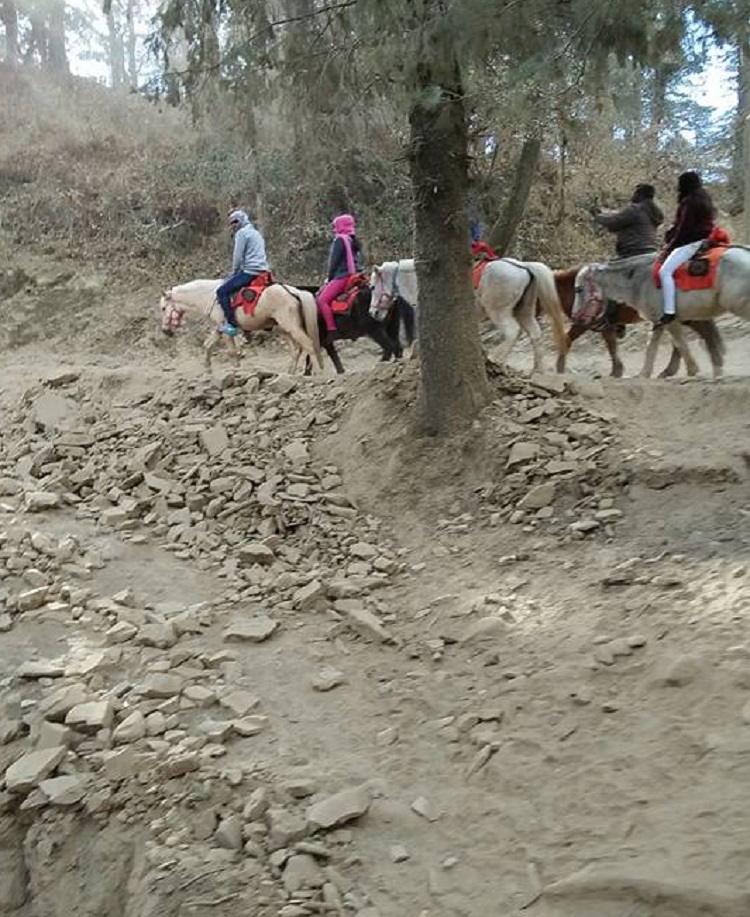 Horse Owners Damaging Landscape and Reputation of Shimla
Kufri and Naldehra in Shimla are facing a peculiar situation – worsening of unhygienic conditions and deterioration of landscape due to horse dung and urine that covers these tourist spots. Offering pony or horse rides to tourists make a source of livelihood for locals and even migrated people. The horse owners charge Rs. 250 to 500 for a ride. However, district administration has failed to form and impose any effective measures for clearing of dug to ensure maintenance of cleanliness at these spots.
Kufri is serving as an idol example of aforesaid trouble. During last five years, the law and order and sanitary conditions in Kufri, one of the most popular tourist destination in Himachal, have decayed rapidly due to monopoly of and bullying by horse/pony owners. The district administration didn't take corrective measures despite knowing about these issues. Entire hill upto Mahasu peak (2,290 metres) is covered with a stinky mixture of horse excreta, urine and mud. Tourists have been writing negative comments about their experience in Kufri. It was also alleged that these horse riders charge in accordance to their will and intentionally keep the trek covered with dung to make it impossible for tourist to walk. With no other option, they are forced to hire ponies. Despite that, the smell of excreta accompanies visitors during the ride upto top.
The orders were given on the base of a PIL filed by a local resident of Kufri, Rakesh Mehta, In his petition, Mr. Rakesh had alleged that despite spending huge chunk of money from the public exchequer on the name of development of tourism activities in Kufri by the government through Department of Tourism and Special Area Development Authority has yield nothing. The number of horses continues to grow day by day. The roads, paths and public places are littered and stinking. The petitioner had also mentioned that horses are being plied by minors and the persons of Nepali origin. The minors are paid negligible wages of about Rs.30 to 40 while the total daily earning from a horse is Rs. 1000 to 2000.
The petitioner had also questioned the entry fee charged by the panchayat from tourists, which was to be used for the construction of public toilets and other necessary steps to maintain hygiene. Despite charging this entry fee, nothing in spent on promised facilities.
In his petition, Mr. Rakesh had also alleged that the district administration is well aware of the situation but still remains a mute spectator. The administration is issuing licenses to more people but didn't frame any policy to check the sanitary conditions.
It is to be seen how the district administration justify their inaction in the court at the next hearing on December 19. Kufri requires immediate attention before its beauty is ruined as it turns into pile of horse dung due to negligence of the administration.