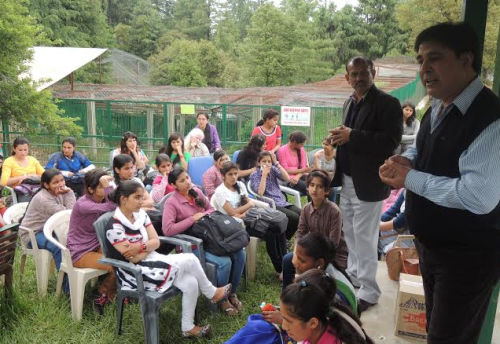 Differently abled girl students of Government School Portmoe, Shimla along with the young members of Umang Foundation today visited Himalayan Nature Park at Kufri.
Ajai Srivastava, Chairman of Umang Foundation, said this educational tour was the part of Foundation's ongoing program for the empowerment of disabled students from poor families. These 25 blind and deaf girls are studying in the local Government Portmoe School with the support of Umang Foundation.
The members of the foundation explained to the blind girls about wild animals kept in the nature park. The deaf girls were explained about the nature park through sign language. Sitting in the natural environment with children, Dr. Manmohan Singh, Director of Shimla based Metrology Center, shared information about the mystery of nature, climate change and global warming with them.
Ajai Srivastava said the Foundation was making serious efforts for the holistic development of the differently abled children studying in various institutions in the state and providing them with all possible support.