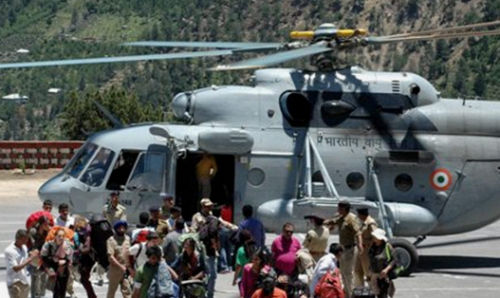 Rescue team has evacuated as many as 1395 stranded tourists including locals in the snow and rain–ravaged tribal Kinnaur district till 24th June, 2013.
Additional Chief Secretary (Revenue) P. Mitra chaired a meeting with all the officers involved in the disaster management in Kinnaur. He directed all the officers to speed up restoration works in Kinnaur district.
As per the information provided by the Deputy Commissioner Kinnaur, J.M Pathania, 200-300 people were still awaiting evacuation which includes local populace who had gone to attend the functions of their kith and kin in different parts of the district and elsewhere.
He said that besides the helicopter of the State Government three helicopters of Indian Air Force had been pressed into service for airlifting the stranded people. He said that inclement weather did not allow sorties to take place today. However, it has been reported that a team of National Disaster Response Force (NDRF) evacuated people from Sangla on foot and assisted them in trans-shipment at some damaged points.
Apropos to the meeting held here yesterday and directions issued by the Chief Minister Virbhadra Singh to speed up relief and rehabilitation efforts, funds amounting to Rs 28 crore have been released as an immediate relief measure. Rs 21.5 crore had been released for district Kinnaur, Rs 1.5 crore each for districts of Kullu, Mandi, Sirmaur and Chamba and Rs 0.50 crore for Lahaul and Spiti. Meanwhile estimated losses were around Rs 2575 crore, he reported.
As per direction of the Chief Minister, instructions have been issued to all the Deputy Commissioners to provide immediate relief to all the affected persons. Besides, all the departments have been directed to activate their field machinery to provide succor to the people and provide detailed assessment of losses so that GoI could be requested to sanction the funds immediately.
He said that nine Horticulture Extension Officers had been airlifted to different parts of the district to assist the farmers in restoration of their damaged plants along with insecticides and pesticides.
As per the latest update, the road between Akpa Bridge to Kiran-Khud and Sumdo-Kaza-Gramphoo axis had been restored. The approach road to Skiba village along-with National Highway had sunk besides that of Kharo had been badly damaged. As per the assessment of Border Road Organization (BRO) most of the sections of the roads would be restored in another one week. The stretch between Kashang to Akpa which was badly damaged due to massive landslides may approximately take a month or so to get restored.
Meanwhile, six truckloads of flour have been dispatched to Tapri and Peo and as per reports received from Kinnaur, stocks of essential commodities are available for more than a month. He said that 2520 liters of Kerosene Oil was airlifted to Sangla on 23rd and 24th June, 2013 and the remaining 2480 liters had been planned to be airlifted to Sangla Valley the moment weather clears. Arrangements have been made to airlift the essential commodities to Sunnam Valley in Giabong soon.
As per direction of Chief Minister, strict instructions have been issued to BRO to utilize their resources besides, requisite helicopter support will be extended to them as and when required for transportation of their men and machinery, he said.